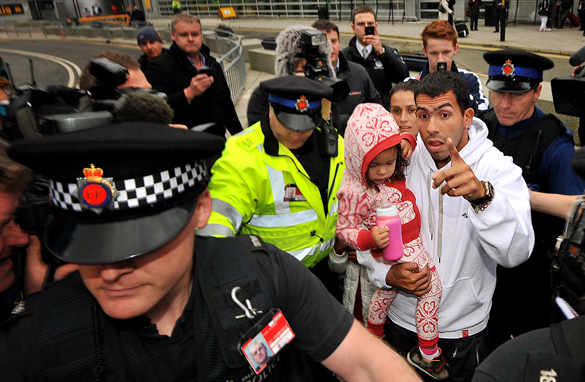 Carlos Tevez had a police escort when he arrived back at Manchester airport on February 14. (Getty Images)
So Carlos Tevez has come crawling back to England, offering apologies to his club Manchester City.
Just over a week after his return to the UK - on Valentine's Day - the Argentina international has finally said sorry for going missing for the past three months, having fallen out with City manager Roberto Mancini.
It's hard to tell exactly what has gone on behind the scenes in the past seven days at the English Premier League leaders, but Tevez now appears ready to show a commitment that he has notably lacked so far in his highly-paid stint at the Etihad Stadium.
"I wish to apologize sincerely and unreservedly to everybody I have let down and to whom my actions over the last few months have caused offense. My wish is to concentrate on playing football for Manchester City," he said in a statement released on the club's website on Wednesday.
This is some turnaround considering that last week he told a South American TV show that he had been treated "like a dog" by Mancini when asked to continue warming up as a substitute during a European Champions League match in September. There was no apology in that interview.
Apparently the Italian had been less than polite with his words following a verbal altercation with striker Edin Dzeko, who he had just hauled off the pitch with City losing to Bayern Munich.
Mancini countered last week by saying he had treated Tevez "too well" – alluding to City's efforts to keep the 28-year-old at the club despite his transfer request midway through last season and constant complaints of being homesick and missing his children. But he said he would give Tevez another chance if he said sorry.
And now, after failing to engineer a move to AC Milan, Inter Milan or Paris Saint-Germain during this season's January transfer window, Tevez says he is ready to help City try to win a first English title since 1968.
In fact, he has decided not to appeal the hefty fines – reportedly almost £10 million ($15 million) in withheld wages and bonuses – that City imposed for his unauthorized absence.
He was the club's top scorer last season and has an incredible record of 43 goals in 62 league starts for City, but does Mancini really need such a potentially disruptive influence at this vital stage of the campaign? Someone who has already shown that his first priority is himself, and the team second?
City's title charge may have slowed in recent weeks but there is still a two-point advantage over rivals Manchester United with 13 games to go, and the squad is getting back to full strength after the Africa Cup of Nations.
Tevez's compatriot Sergio Aguero has proved a more than capable replacement as both a goalscorer and inspiration up front, while the unpredictable Mario Balotelli – when he is not injured, suspended or sulking – is also a match-winner.
Dzeko has been less consistent but has still contributed 12 goals, even if 10 of those came before the start of December.
Given Tevez's lack of match fitness – City reported that he will be going on a special program to remedy that situation – he might struggle to get a game anyway.
So what would you do in the position of Mancini – who last year said his former captain Tevez was finished at the club? Would you give a leopard the chance to change his spots? Or leave him in the doghouse?