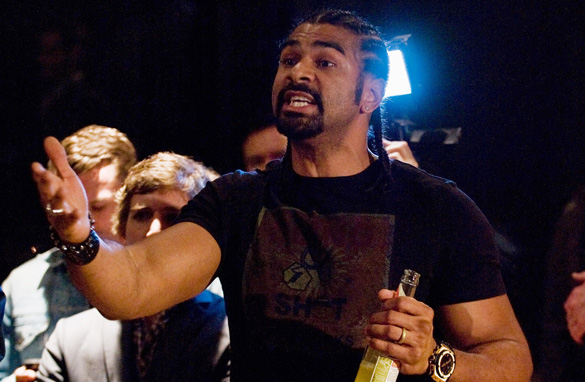 David Haye smashed his beer bottle on Dereck Chisora as they brawled in Munich at a press conference. (Getty Images)
It's been a long time since anyone referred to boxing as a gentleman's sport. Or, at least, a long time since they did it with a straight face. Any lingering pretensions of pugilism as an honorable and noble pursuit have vanished forever following the ugly press conference brawl between Dereck Chisora and fellow Briton David Haye in Germany.
As the quality of boxing's heavyweight division has declined, so the outrageousness of pre and post-fight "stunts" has increased. But all the experts I have spoken to insist this was not a set-up. It was a genuine outbreak of madness that has demeaned a sport already, metaphorically, winded and hanging on for the bell.
Haye's nonstop trash talk in the leadup to his disappointing defeat by Wladimir Klitschko and subsequent retirement last year hardly helped matters. If this incident was the result of an attempt to stir up interest in his bid to return and face Chisora's Saturday conqueror, Vitali Klitschko, then it can only leave a sour taste in the mouth of fight fans.
Muhammad Ali was the master of trash talk, but he had the wit and the talent to back it up.
For decades, boxing's validity has been weakened by multiple governing bodies, a bewildering array of world champions at every weight class and frequently unjustifiable points decisions in major title contests. This latest scandal is another major blow.
I am not trying to suggest it will spell the end of boxing. While there is still money to be made from it, the fight game will continue. But when Chisora stepped down from the news conference stage in Munich to tangle with Haye, it plunged boxing's reputation further below the cut-off line for those fans who like their sport hard but also fair.
While racism continues to plague parts of European football, and Asian gambling rings fuel cricket's match-fixing curse, boxing is being betrayed by its own athletes and their lack of class in certain situations.
Mike Tyson may have shocked us just as much when he bit a chunk out of Evander Holyfield's ear in 1997, but at least he overstepped the mark in the ring; an outrageous act conducted in the heat of combat.
There is no such excuse to be attached to Chisora and Haye's pathetic playground rough-and-tumble in front of the world's media.
Boxing badly needs better role models right now. Even the two most respected and talented fighters at the moment, Floyd Mayweather Junior and Manny Pacquiao, have swapped insults during a prolonged negotiation over the one bout that could put their sport back on the map - but looks no closer to ever happening.
The biggest shame is that, if you look at the action in the ring, Chisora did surprisingly well against the elder of the Klitschko brothers - who are the only remaining global heavyweight drawcards. No one will remember the Zimbabwe-born Brit's boxing display now.
And the only way the sport can redeem itself is if he, and Haye, are never allowed to fight again.