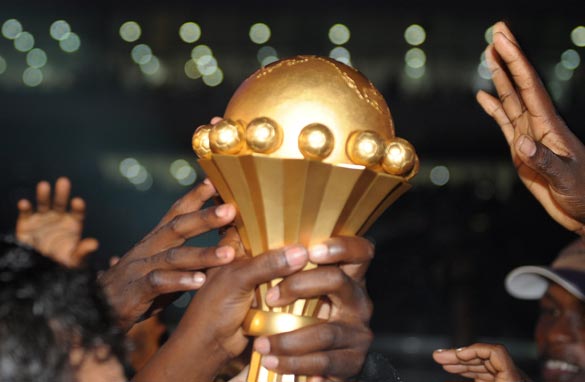 Ivory Coast and Zambia will be trying to get their hands on the Africa Cup of Nations trophy.
Sunday sees the final of the Africa Cup of Nations between the Ivory Coast and Zambia and I can't wait to see these two great sides battle for the trophy.
Ivory Coast were my pre-tournament tips to come out on top, but I always believed Zambia would be tough to beat so their appearance in the final is no surprise to me.
Many people are labeling them as underdogs, but I don't believe that to be the case. They are a tough and well-disciplined side and Frenchman Herve Renard must take his share of credit.
He's in his second spell in charge since 2008 and unlike many foreign coaches, who just come in for five or six games, he's provided stability and good leadership for the squad.
I've played against Zambia for Nigeria and they have a host of good quality players, but their key man for me is their captain and star striker Christopher Katongo. He's a machine!
Give him half a chance and he will make you pay so the Elephants will have to be on their toes.
The other motivation for Zambia is the terrible tragedy which befell their squad in the 1993 air crash in Gabon. It happened on the coastline near the venue for the final in Libreville and it's one of those strange coincidences that make one feel that fate could be on their side.
Having said that, I am sticking to my prediction for Ivory Coast to win the Africa Cup of Nations for the second time. They have a strong defense and central spine to their team, with Didier Zokora and Yaya Toure working so hard in midfield.
I've also been so impressed by Arsenal's Gervinho, who scored the winning goal in the semifinal against Mali. With Chelsea's Salomon Kalou offering such a threat on the other flank, I believe their wing play could prove the key to a victory for the Elephants.
If they can supply Didier Drogba with good service he will surely deliver. With his ability in the air, his pace and power, Drogba is such an influential player for the Ivory Coast and as their captain will be desperate to get his hands on the trophy for the first time.
The tournament will be staged again in 2013 after just a year's gap but at the back of his mind will be the thought this could be his last chance to win the Africa Cup of Nations with his beloved country.
My real hope is for a great game to showcase African football and may the best team win !