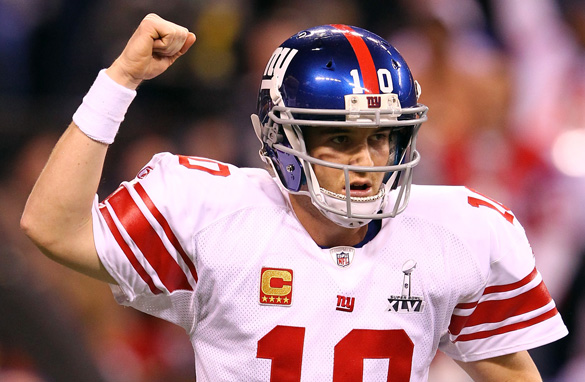 New York Giants' Eli Manning showed that he is among the NFL's elite quarterbacks.
It's called the Super Bowl, but there's no guarantee that American football's showcase event will be a super show. Fortunately, the game that crowned the 2012 NFL champion here in Indianapolis on Sunday did live up to its much-hyped moniker.
Even if you don't support either the New England Patriots or the New York Giants, it was easy to get caught up in the high drama that was Super Bowl XLVI.
From the strange start - which saw Tom Brady call for intentional grounding in the end zone and led to a rare Super Bowl safety - to the Patriots quarterback needing to aim for the same end zone as time expired in order to pull off a game-saving comeback that never materialized ... this Super Bowl had it all.
It had the Material Girl, Madonna, putting on a show that transported 68,000 fans in Lucas Oil Stadium and billions around the world back to the 1990s.
Speaking of shows, if Giants star Eli Manning wasn't considered an elite quarterback before, he is now. In August of last year, Manning was asked by a reporter if he considered himself among the NFL's elite signal-callers. When he unabashedly said that he believed he was in that same class, some eyebrows were raised.
Those same doubters were left to marvel at the talents of a young man who engineered his seventh four-quarter comeback of the season in the game that mattered most. Manning will never soak in the adulation as an individual, saying that he's all about the team, but his second Super Bowl MVP Award can do the talking for him.
The game ended up being the icing on a cake that was being crafted throughout the week in the Super Bowl city.
The people of Indianapolis should be proud of what their community pulled off. The 12th biggest city in the U.S. was living large during Super Bowl week and it deserved a handsome payoff.
Will the NFL decide to hold its championship game here again? That will be left up to the league's power brokers.
When it comes down to it, it's the people that make an event like this so special. Hoosier Hospitality, as it's called, is a way of life for the good folks who make this city their home. Indianapolis rolled out the welcome mat and we're better off for coming through the door!