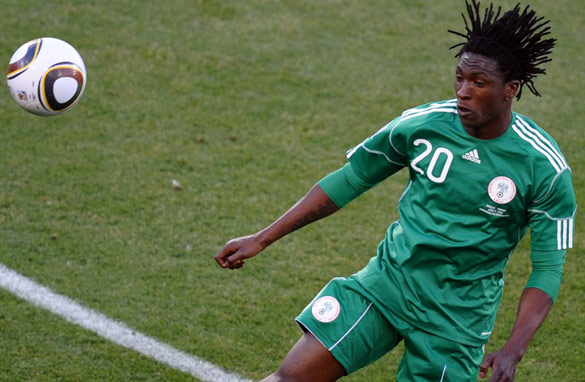 Dickson Etuhu says pulling on the Nigeria shirt was one of the best moments of his career. (Getty Images)
I wasn't into football when I was young and we were living in Kano, Nigeria - I just remember running around playing with bicycle wheels. We'd go to the school that my Grandma cooked for, playing round the back near the kitchen and getting free food.
We came to London when I was six, in the early 1990s. My sister was getting treatment for cancer, and she died here. There were a lot of bad things going on back home so we came over to England.
I was lost when I first came to London! My brother Michael and I stuck together. It was difficult for people to accept us because we looked different and spoke differently, but boys will be boys and football is a universal language. We eventually got into the swing of things in a couple of years.
I wasn't interested in football until I was 15 or 16. I loved athletics and represented Great Britain at one stage in the triple jump and long jump.
I used to play for the same team as former Manchester City and England midfielder Shaun Wright-Phillips but I never used to go to training - I used to turn up on a Sunday with my boots and some fast food in my hand and ask for a game. Because I hadn't been to training they would often say no. But sometimes there was a player short and I'd get a game - that's how seriously I took it. One day a scout for Manchester City was there and asked me to go to the club.
I told my Mum I wasn't interested in football - going to Manchester was like going to Spain! I'd never even been on a motorway. I said no but they came back and asked again. At the time there were a lot of negative things happening in Peckham, a lot of crime, a lot of murders.
A lot of people in my area were involved in crime and my Mum didn't like us being around that. She said, "You've got the opportunity to go away for two weeks on trial, go and enjoy it, if you don't enjoy it come back."
I said, "I'll go for you Mum," and I never came back - I signed a three-year contract.
George Weah was one of my idols. He was a great man. I played with him at Manchester City. Me and Shaun used to go to his house for dinner at the weekends and his wife would cook for us. I'll never forget the day he left. It was very emotional - me and Shaun had spent so much time with him, he took us under his wing and he looked after us.
He said to us, "I'm leaving so come round my house and take whatever you want." We were taking microwaves, televisions, even socks because we had nothing, and stuck it all in our little car.
In terms of my Nigerian idols there's Kanu, Jay-Jay Okocha - a great, great player - and Stephen Keshi, the current national manager, probably the greatest captain Nigeria ever had. He's a great man. I'd heard so much about him as a person and never got to meet him until now, but he's got an aura about him. When he says something you trust him - and you can't get that from many people.
Playing for Nigeria was one of the greatest moments of my career. My first game was Mexico away, which was a shame, had it been at home it would have been even more special. I had dreamt about wearing that shirt. I saw a lot of my idols playing for Nigeria and now I thought I've got an opportunity to wear the shirt; 250 million people in the country and I'm one of just 11 wearing the shirt.
Nigeria's my home. When I go there I feel connected. It's the best place in the world for me. There is poverty, yes, but you can see people who are not interested in material stuff, they just want to be with their family.
I'm going to go back to Nigeria to live when I finish playing. I've got a lot of unfinished business there. I want to have a charity in Nigeria and one in England as well, because growing up in Peckham I go back and see kids like me who need that little opportunity to make something better for themselves and I want to be able to give them that. It's something that drives me.
Most of the coaches in the Nigeria leagues especially need to come to Europe and get some experience and do their badges - that will help African football.
That's the difference, when you watch the World Cup you can see the difference is the knowledge of football, not so much technical or football, it's to do with knowledge, when to do what with the ball. When we get that I think Africa will go on and dominate world football.