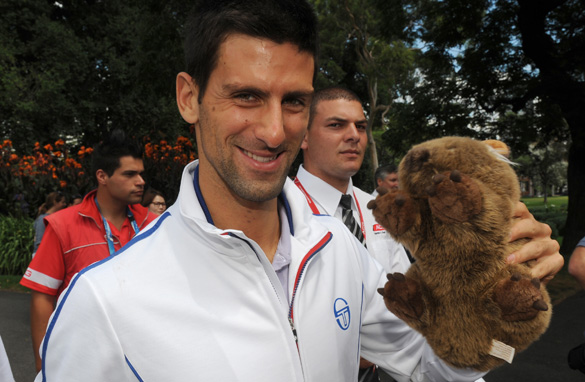 Novak Djokovic poses with a stuffed wombat the day after winning his third Australian Open title.
The contrast between the men's and women's finals at the Australian Open could not have been greater.
On Saturday, Victoria Azarenka thrashed Maria Sharapova to claim her first grand slam title and the No. 1 ranking. It was a result that suggested this year's WTA season will be just as much as a free-for-all as 2011 was.
On Sunday, however, Novak Djokovic won his third successive major title as he overcame Rafael Nadal in one of the most amazing finals in tennis history. We can debate until the cows come home about whether it was indeed the greatest, but it was definitely the longest.
And what are the odds against the world No. 1 becoming the first man to hold all four grand slam titles since Rod Laver in 1969, when he goes to Nadal's stronghold at Roland Garros in May?
Roger Federer, who has the record of 16 major titles, could not do it in his prime. Twice he had the chance to hold non-calendar year slams, but the Swiss star was beaten by Nadal in the finals of the 2006 and 2007 French Opens.
Nadal is by no means a spent force. He showed in Melbourne that he is closer to Djokovic than he was for most of last year, when he won a record-equaling sixth title in Paris after Federer ended the Serbian's 43-match winning streak in the semifinals.
And a quick survey of online bookmakers shows that he is still the favorite for Roland Garros, with Djokovic a close second despite having beaten Nadal in seven successive finals.
Djokovic now plans to take time off as he focuses on a year that could see him win a "Golden Slam" – a feat previously only achieved by Steffi Graf, when she won the 1988 Olympic title.
It would be a superhuman effort for him to emulate that, meaning he would have to – on top of ending Nadal's French reign - triumph twice on the grass of Wimbledon before defending his U.S. Open crown in September.
One man who will be determined to stop Djokovic when the fabled courts at SW19 host both Wimbledon and the 2012 London Olympics is Andy Murray, still Britain's best chance of a first male grand slam winner since 1936.
The Scot pushed his friend to five sets and almost five hours in the Melbourne semis – a far cry from his thrashing in last year's final – as he made an encouraging start under the tutelage of eight-time grand slam winner Ivan Lendl.
He showed far more aggression than usual, but crucial errors of the hair-tearing variety and an inability to hold his serve ultimately cost him victory.
And what of Federer? He didn't drop a set until he faced Nadal, when he was once again muscled off court by the 25-year-old, who seems to supercharge his game whenever they meet.
It would be an unwise man who bets against Federer ever winning another slam, though I'd say he has more chance in a final against Djokovic than versus his great rival.
Maria Sharapova must be wondering when her next major title will come. Twice in the past year the Russian has stormed into a final with great hopes, and twice she has come away empty-handed after a straight-sets crushing.
It's fantastic that she's even contending for a fourth grand slam crown, given her severe shoulder problems in recent years, and she is clearly still massively popular – last week's feature on her fashion business was by far the most-read sports story this year on CNN.com International.
Azarenka has been threatening a breakthrough win for some time, but whether she will be still be No. 1 come the end of the French Open is anyone's guess – that's the nature of the women's game at the moment.
Last year three slams went to first-time winners, the only exception being Kim Clijsters. The Belgian failed to defend her Aussie title this month, losing to Azarenka in the semis.
She has made it clear she is desperate to win her first French Open crown – having twice been a runner-up - before likely retiring for the second time at the end of this year. Wimbledon is also on the three-time U.S Open champion's agenda, having reached the last four in 2003 and 2006.
One player to complete a career slam at the weekend was Indian doubles specialist Leander Paes.
The 38-year-old teamed up with Czech Radek Stepanek to win the men's title on Saturday, with the unseeded pair upsetting American No. 1s Bob and Mike Bryan – who were bidding to win an Open era record 12th grand slam.
Bob Bryan's wife was due to give birth that day, but he revealed later that it didn't happen as planned and he might get back home to Florida in time for the big moment.