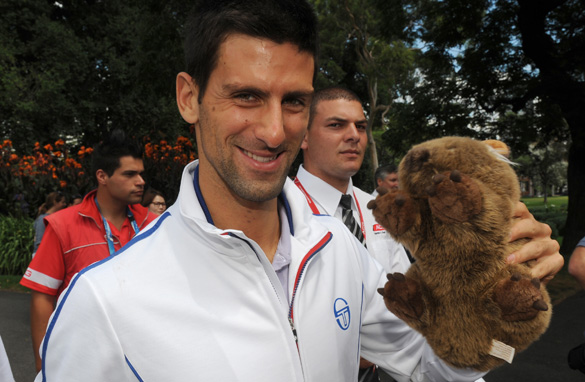 Novak Djokovic poses with a stuffed wombat the day after winning his third Australian Open title.
The contrast between the men's and women's finals at the Australian Open could not have been greater.
On Saturday, Victoria Azarenka thrashed Maria Sharapova to claim her first grand slam title and the No. 1 ranking. It was a result that suggested this year's WTA season will be just as much as a free-for-all as 2011 was.
On Sunday, however, Novak Djokovic won his third successive major title as he overcame Rafael Nadal in one of the most amazing finals in tennis history. We can debate until the cows come home about whether it was indeed the greatest, but it was definitely the longest.
And what are the odds against the world No. 1 becoming the first man to hold all four grand slam titles since Rod Laver in 1969, when he goes to Nadal's stronghold at Roland Garros in May? FULL POST