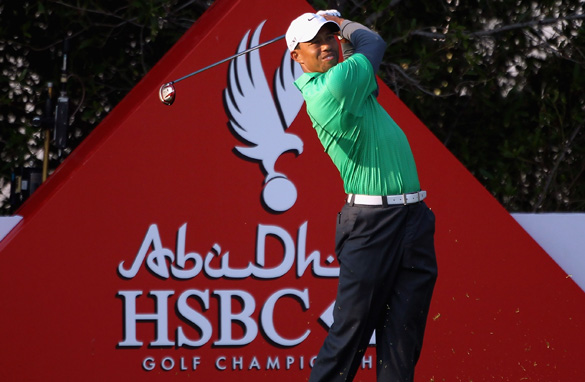 Tiger Woods has joined many of the world's top golfers in Abu Dhabi for the European Tour event.
Tiger Woods remains the biggest attraction in the world of golf. Despite a lackluster run that has lasted two full years, and being dogged by his off-course dramas, the former world No.1 has proven yet again why he can pull in a crowd with his season-opening appearance in the Middle East.
Abu Dhabi is an unusual place for him to start his season, but there were several key factors in his decision to begin the year on the European Tour.
Firstly, there was the lure of a healthy fee (estimated at $1.5 million) from sponsor HSBC to add value to its growing commitment to this hugely popular event. Secondly, there was the opportunity for him to kickstart his year by testing his latest mutation as a swinger of the golf club against the very best field in world golf. And thirdly, it represented a golden chance to begin his build towards the first major of 2012, the Masters Tournament in two months' time.
Woods has won the Masters on four occasions, most recently in 2005 when he defeated Chris DiMarco in a playoff and famously holed out his chip shot on the par-three 16th during a pulsating afternoon of golf. He's not won it since, and while tying the great Arnold Palmer for wins, he remains two precious victories away from Jack Nicklaus - who famously claimed his sixth Green Jacket at the age of 46 in 1986.
Majors are what motivate Woods the golfer. At 36 years of age he has more than enough time to match, and indeed surpass, Nicklaus' record haul of 18 major titles. With 14 majors in the bag, Woods has some serious achieving to do for the remainder of his career. While not impossible, it remains that he will have to win five more majors to become the undisputed "world's greatest."
That would represent a stunning career haul for any one of his peers. Only great rival Phil Mickelson comes close with four major victories - 10 shy of Tiger. It's now a question of desire, good health and smattering of good fortune.
Woods hasn't won a major since the U.S. Open in June 2008. His world imploded after crashing into a fire hydrant in November of 2009 and he has been in rehab, undergone surgery, been divorced and attempted several comebacks. He has been unable to tick all of the boxes, until now.
With a seemingly better balanced life off-course, new swing changes bedded in and a much healthier physique than has been the case in several years, Tiger Woods is back on the prowl.
For HSBC, he represents good value as the mirror of the bank's sports sponsorship and business strategies, helping spur growth in key markets like China, Brazil and here in the United Arab Emirates. Woods' inclusion in the field has the power to raise the non-golfing public's awareness of both the tournament and, most importantly, HSBC itself - one of the world's premier financial institutions.
Win or lose this week, Tiger Wood has returned to the stage that he thrives on, and that represents a win-win all-round.