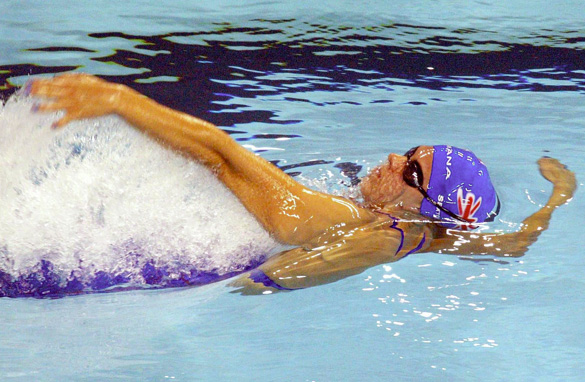 Katy Sexton became the first British female swimmer to win a world championship title in 2003.
It's not long until the British Olympic swimming trials in March, and it's really exciting because it's the first time I'm going to see the new pool in London. Days are ticking by and it's getting really close.
I'm really excited by the prospect of actually competing at the Olympic pool for the first instance in the trials, and then hopefully I can convert my times into a place on the team and compete there again in the summer. I went to Sydney in 2000 and Athens in 2004, and I want to be involved again.
Having the Olympics in London will be amazing. I went to the Commonwealth Games in Manchester in 2002 and that was a fantastic experience. It makes it even more exciting because your family and friends can be more part of the whole concept of what you're going for.
At home it's more accessible for them and they can understand a bit more the passion you have for the sport. It makes it that extra bit special.
When I missed out on the team for Beijing in 2008 it was heartbreaking. I'd done everything I could but I fell at the last hurdle. They only take two competitors for each event, and at our trials you have to do the times on the day to go through. I did the time but I was third on the day.
After that I very much felt like, "I've trained for four years to do this, what do I do now?" There were about eight of us in that position after the Beijing trials. We went to the U.S. nationals, our last main meet of the year. Then it was a case of sitting around and back to the drawing board. Thinking about what to do, how to move forward and if I want to move forward.
I got married in the summer of '08 so there was all of that going on as well, and there were a few problems in my personal life, so swimming took a back seat for the first half of this four-year cycle. I fractured my ribs and that led to other complications with my back, so I was forced to take some time off - which was something I hadn't done in 13 or 14 years swimming at the top of my game.
It's something I wish I'd done sooner in life. It gave me time to appreciate what I had done, and when I did get back into swimming after about four months out, I was ready and raring to go, re-energized and wanting it even more. The hunger was back again. I wish it was something I'd done earlier.
The last six years I've been funding myself, so it's a case of "I can do it without anyone's help, I'm doing it my way and I can still do it well my way."
I'm quite susceptible to being injury prone and illness prone, so it's about keeping that at bay, keeping strong mentally. When you're at the starting blocks, it doesn't matter what happens from the neck down, it's neck up. You could have the worst preparation but as long as you can get in the right frame of mind, everything else is irrelevant.
At the moment I'm doing eight or nine swimming sessions a week. I'm training myself. I'm doing a weight program that is assisted by Mark Foster, a legendary British sprint swimmer who was a world and European champion in short-course events. I worked with him before Beijing, it's just the weights side of stuff and it's something we've continued to do.
I also do coaching. When I had that forced time off I set up my own swim academy in Havant, outside of Portsmouth where I'm from. It's something I always wanted to do, and I had time to do it. It's my way of giving back to my local community. It's not something I've just put my name on - I'm actually hands on with it.
It's quite nice to do something that's not directly about me. It's so nice to be able to watch kids enjoy the water and progress to actually swimming. It's very basic beginner level that we're doing.
I'm going to be 30 not long before London 2012. Everyone always says that it's good to be still swimming at my age, but I was doing it really well at a young age. For example you had Dara Torres, who won silver medals for the U.S. at the last Olympic Games - she was in her 40s. I can remember going to Sydney in 200 and it was a big deal because she was making her comeback at 30-something then. If you can hack it, why not.
What do you think? Is there anything you'd like to know about my bid to qualify? Do you have any questions about how athletes train for big events? Please let me know below and I'll try to answer them in my next blog.