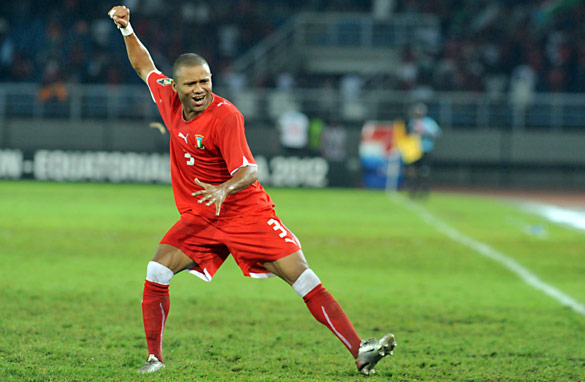 David Alvarez scored the goal which sent Equatorial Guinea through and Senegal crashing out. (Getty Images)
The African Cup of Nations is coming to the end of its first week and, as I predicted before the start of the tournament, there have already been massive shocks and they are set to continue.
I'm delighted for Equatorial Guinea. Their victory over one of the favorites, Senegal, was a stunning result for a nation of just over 700,000 people and ranked 151st in the world.
They kept to a strict game plan and were rewarded with a 2-1 victory which eliminated Senegal, who will be going home after their final group game.
I believe that part of the problem for Senegal and other fancied teams who have failed to live up to expectations is that their English Premier League players find it difficult to blend with home-based squad members and those from other European leagues.
It should not be an excuse, but the EPL is such a fast-paced league that integrating its stars with other team members which such a short time to prepare is difficult.
The pitches and general conditions do not help either, and I never thought I would see rain like that in the African Cup of Nations! But Equatorial Guinea adapted to the waterlogged conditions the better, and their co-hosts Gabon are also doing well.
That's brilliant for the tournament, with packed stadiums and a great atmosphere.
Despite the shocks, other big names are looking good and my pre-tournament tip Ivory Coast have started with a couple of good wins.
Arsenal's Gervinho has been excellent for them and it was typical of Chelsea striker Didier Drogba to score their winning goal against Sudan.
He's an inspirational figure in his country and does a tremendous amount for charity. It would be quite something to see him help the Ivory Coast to the title in the autumn of his career.
I came in for some criticism for not mentioning Ghana in my previous blog and it's clear they have a great chance. But being the leading African country in the 2010 World Cup finals puts a lot of pressure on them and it won't be easy.
Having said that they coped extremely well with being reduced to 10 men in their opener against Botswana and I thought Asamoah Gyan stepped up to the plate.
Don't write off Tunisia either because the North African sides are so good technically.
After my previous posting I was asked questions about the value of local coaches against big-name imports. There's a mix at this year's tournament and it's too early to judge the outcome.
What I would say is that local coaches can find it difficult to manage star players from the big European leagues, simply on the basis of reputation, but you can't use this as a reason why some teams underachieve. Playing in the tournament should be motivation enough, whoever is in charge of your squad.
I could not be more excited to see how the next stage of the tournament unfolds, but you won't be surprised for me to say, expect more shocks.