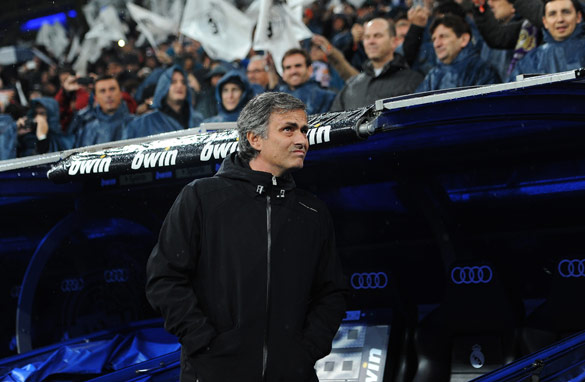 Is coach Jose Mourinho falling out of love with Real Madrid after being booed by the club's fans? (Getty Images)
If you believe the hype, Jose Mourinho is on his way out of Real Madrid. According to various reports and sources close to the Portuguese manager, he has had enough of dealing with the local press and the alleged discontent from the Spanish contingent in the dressing room and is ready to walk out at the end of this season.
Is this true? Yes and no.
I think he will quit the Santiago Bernabeu in June, but not for the reasons which have been circulating in the media over the last few days.
Let me start by explaining why there is tension at Real right now, ahead of Wednesday's Spanish Cup quarterfinal clash with great rivals Barcelona. Before this season started, the club's sporting director Jorge Valdano was sacked. Mourinho didn't see eye to eye with the Argentine and convinced Real president Florentino Perez that the team and the institution would be better without him.
This meant that the two-time UEFA Champions League winner had complete control of every football decision at the club. Not only was he in charge of tactics and the purchase of players, but he also had the independence to do and say whatever he wanted in the name of a club that has won the European title a record nine times - but not since 2002.
As great as this was for Mourinho, it didn't please many senior members at Real Madrid, who believed he had proven to be too much of a loose cannon for his own good. They voiced their disapproval internally, but Perez stuck with his plan and gave Jose free rein.
There were various episodes this season which created more discontent among long-serving directors at Real: the eye-poking incident against Barcelona in the Spanish Super Cup, the comments he made about wanting to return to England - and the back-to-back defeats to Barca in the league in December and then in last week's first leg of the cup quarterfinal. Not necessarily the results, but the defensive and aggressive way in which the team played did not please the institution. Portugal defender Pepe's stamp on the hand of Lionel Messi last Wednesday is one such example.
In my view, what has happened recently is that some people at the club have used their connections with local sports newspapers like Marca and As to persuade them to run stories about player discontent. The purpose, of course, is to increase the pressure on Mourinho and convince some of the fans that he is not as special as they once thought he was. These Real heavyweights have also probably encouraged some of the players to stand up for the old-school values of the club and take a stand against the manager.
So what about the reported row between Real defender Sergio Ramos and Mourinho, and the alleged dressing-room split between Spanish and Portuguese players? It is my belief that the argument happened, but I don't read into it more than that. Mourinho is a manager who has always inspired and motivated his players, and even if there was unrest among a faction of the team, I would be shocked if they were to lead a mutiny against him.
After all, this is a side leading the Spanish league by five points, setting records for points and goals, and easily qualified for the Champions League knockout stages. So there is no real proof that the players are not behind their coach and that they will not continue to fight for him this season.
Which leads me to Mourinho's future. Even though there is no obvious clue regarding what the former Porto, Chelsea and Inter Milan boss will do next, and even if there is no mutiny within the squad, I still sense he will leave Madrid at the end of this season.
The 48-year-old feels betrayed and also feels that all the work he has done is not being appreciated. He thinks the current Barcelona side is probably the best of all time and that if his rivals weren't this good, he would comfortably be winning titles in Spain and Europe.
Therefore my prediction is he will leave Spain behind in June and move to England to manage Manchester City. I know it is a bold call, but I believe it will happen. Even if Mourinho wins La Liga or any other trophy in Madrid, he will satisfy his desire to return to England to take on a project that would be as challenging as any he has ever undertaken in his career. He would be the perfect choice to take over from Roberto Mancini, who will be sacked when City fail to win the Premier League title this season.
That's my story and I am sticking to it.