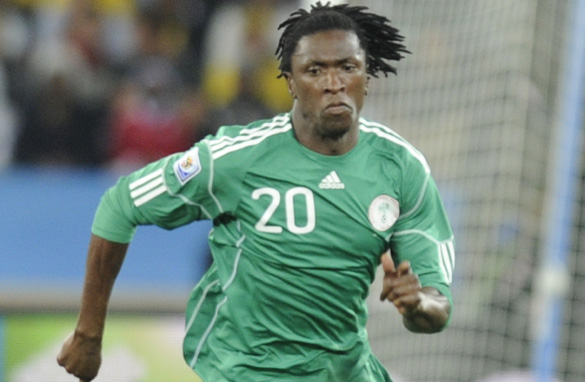 Fulham midfielder Dickson Etuhu has represented Nigeria at the highest level. (Getty Images)
I'm passionate about the African Cup of Nations. I've played in it twice for Nigeria and it's the most amazing experience I have had in football, even better than the World Cup and the English Premier League where I play for Fulham.
In Africa, football really is like a religion. It unites people of all backgrounds, it brings them together in common cause, and victory in the Cup of Nations is considered the pinnacle of achievement.
But for some countries, like Libya, just getting to the finals is an incredible achievement. I'll certainly be looking out for them in this tournament and I'm really hoping they can qualify out of their group. I understand that some of their players were at the sharp end of the turmoil, even taking part in the fighting, as Gadhafi was toppled from power.
After that, to then make it to Gabon, that's quite something. For me, they encapsulate the real spirit of the Africa Cup of Nations and they could cause an upset. The likes of Ivory Coast and Senegal may be the favorites, but the magic of this particular tournament is its unpredictability.
In African football there really is no such thing as an upset result because they happen all the time. You have only to look to the qualifying - with my own country, defending champions Egypt and the likes of South Africa going out - to back that statement up. The best players from the continent play in the top European leagues, but when they go back home to play for their country they find very different conditions, with poor pitches and blazing temperatures.
It acts as a real leveler and the Africa-based players have a big advantage. A lot of them are fantastic athletes, very fit and hungry and keen to impress the many talent scouts from top clubs who will be out in force in Gabon and Equatorial Guinea.
I believe this is one of the reasons why Egypt have been so successful in the past because the bulk of the squad largely still play in their domestic league. But in their absence, I don't think you can look much beyond the Ivory Coast with their star-studded line-up including the likes of Didier Drogba and the Toure brothers, who like me play club football in England.
From a personal point of view, I'm desperately disappointed that the Super Eagles did not qualify to give me the opportunity to play in the Africa Cup of Nations for the third time, added to my appearance in the 2010 World Cup finals in South Africa. We have a change of management now and I'm convinced we won't make the same mistake again next time.
I would love to be at those 2013 finals representing Nigeria, but for now I must make do with watching this year's finals on television in London and receiving texts from my many friends who are playing. It still really hurts not to be there, but that's football and I can promise you the teams who have made it will put on a great show for the fans.
Editor's note: Do you have any questions for Dickson Etuhu? Let us know below and he will answer them in his next Cup of Nations blog.