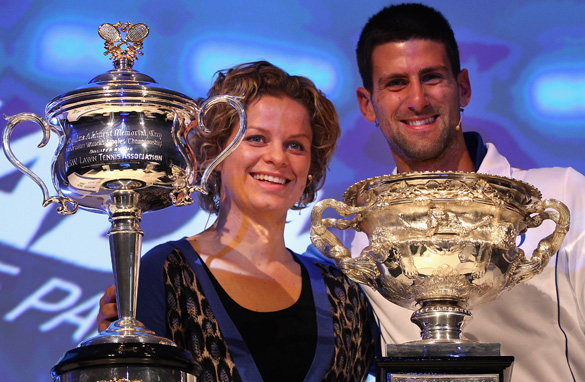 Kim Clijsters, left, and Novak Djokovic took home the winners' trophies in Melbourne last year.
There are two burning questions ahead of the tennis season's opening grand slam in Melbourne: can Novak Djokovic repeat his stellar form from last year, and will the women's No. 1 be a major winner ?
Djokovic's Australian Open preparations have been relatively low-key again, an approach that worked last year as he launched a 43-match winning streak in Melbourne and ended the year as world No. 1 with three of the four coveted crowns.
While in 2011 he played in the non-sanctioned Hopman Cup mixed teams event, this month the Serbian made do with scooping $250,000 at an exhibition event in Abu Dhabi.
The 24-year-old looked a broken and weary man at the end of last season, hampered by injuries and the exhaustion of playing 70-plus matches – losing only six.
Roger Federer, on the hand, looked like he'd found a new lease of life as he claimed the season-ending championship for a record sixth time.
But the world No. 3's bid for a record-extending 17th grand slam title is looking less certain after losing to Djokovic in Abu Dhabi and then pulling out of his semifinal in Doha due to a back problem.
If he's fit then he should be Djokovic's main rival, but whether he can repeat his brilliant win in the French Open semis that snapped the Serb's winning streak is yet to be seen.
Like Djokovic and Federer, former No. 1 Rafael Nadal skipped warm-up events in Australia.
The Spaniard's early-season form has raised major doubts that he can be the force of old, losing to fifth-ranked David Ferrer in Abu Dhabi and then France's current No. 15 Gael Monfils in the Qatar semis.
The 25-year-old won the Australian Open in 2009, but his motivation seemed to fall away badly at the end of last year after some demoralizing defeats by Djokovic. At this stage it would be hard to tip Nadal to win an 11th major on the hard-courts of Melbourne Park, despite his assertion that his problem shoulder is fixed.
However, he is on the same side of the draw as Federer and – notwithstanding his thrashing in London in November – has recently had the upper hand over his great rival in major events.
So what of the others? Andy Murray was runner-up for the past two years, and this year he'll be under the guidance of former No. 1 Ivan Lendl as he seeks a breakthrough grand slam.
The British No. 4 seems to be getting closer and closer, and he beat Djokovic in their only encounter in Cincinnati last year, but doubts still linger about his mental toughness. They are drawn to meet in the semis this time, and it should be a closer affair than the straight-sets demolition that sent Murray into an early-season tailspin.
Ferrer showed last year that he can be a contender, beating Nadal to reach the semis, but it could be Jo-Wilfried Tsonga's chance to shine again. The 2008 finalist had a great 2011, and the Frenchman's powerful all-action game can test any of the top four.
The last time a top-ranked player won a women's grand slam was Serena Williams in Melbourne two years ago, but the American may struggle to extend her record Australian Open title haul to six due to a recent ankle injury - and an admission that she doesn't actually love playing the game.
The pressure is on current No. 1 Caroline Wozniacki to lift a gorilla off her back and win her first major. The 21-year-old could lose top spot to five players in the field come the end of this month, with Wimbledon champion Petra Kvitova the leading contender.
Neither impressed in the Sydney warm-up event, struggling outside in windy conditions after coming from the indoors Hopman Cup exhibition. But Kvitova beat Wozniacki in Perth, and last year showed she has real steel in the big events, topped off by her WTA Championships success.
Last year's runner-up Li Na has come into form after a poor second half to last season, and the French Open champion should be a contender along with her third-seeded Sydney conqueror Victoria Azarenka – another player seeking her first grand slam title.
Maria Sharapova has been absent from the Aussie preambles, but the 2008 champion showed last year at Wimbledon that she is overcoming her injury problems before an ankle setback in Turkey ended her hopes of being year-end No. 1.
Defending champion Kim Clijsters, like Williams, comes into the tournament under an injury cloud. The former No. 1 may find a possible fourth-round rematch with Li to be an even tougher prospect than her three-set win last January if the Chinese star continues her resurgence.
Australians have high hopes for Sam Stosur, who won her first grand slam at September's U.S. Open but has struggled under the weight of expectation so far in 2012.
So who are my picks? Djokovic and Kvitova. Let's see how it goes.