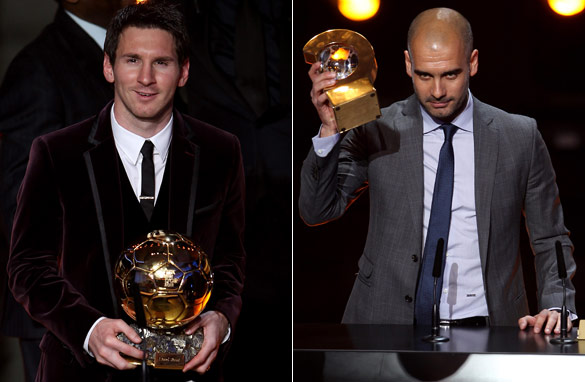 Lionel Messi (left) was crowned the world's best player on Monday, while Guardiola was named football's top coach.
This week I traveled to Zurich to cover the 2011 FIFA Ballon D'Or awards ceremony. The event crowned Leo Messi as the best footballer on the planet and Pep Guardiola as the top manager in the game.
No argument from me on both counts, as the little Argentine and the Spanish coach enjoyed a phenomenal year during which Barcelona won five out of a possible six trophies.
While I was in Switzerland, I was asked by several colleagues why I thought Barca were so good. Was it the academy, was it down to Messi's brilliance, or Xavi's playmaking ability perhaps?
Definitely they are all factors which have contributed to the club's success, but after closely observing and speaking with the players and coach, I believe the truth lies deeper.
I am one of the privileged few who have had the opportunity to spend quality time with some of the world's top athletes. Through my work at CNN and hosting galas for FIFA and UEFA, I have had an inside look at the lives and habits of football stars and I can tell you there is something about Barcelona's coach and players that sets them apart.
It comes down to their mentality and philosophy, which is based on three factors: unity, equality and respect.
You know what Messi did when he won his third straight Ballon D'Or? He thanked Xavi. What did Guardiola do when he picked up his award? He dedicated it to his assistant Tito Villanova.
They forgot about their individual achievements and focused instead on the work of the group. It is never about "I", it is always about "us."
At the pre-gala press conference, I asked Guardiola and Alex Ferguson, another nominee for coach of the year, if Messi should already be considered one of the best players of all time.
Fergie didn't hesitate. The veteran Manchester United coach praised the Argentine's skills, comparing him with the likes of Alfredo Di Stefano, Diego Maradona and Pele.
What did Pep do? He immediately pointed out that Messi has only been able to shine because of the group of players that are around him, and emphasized that if he continues to work hard with his teammates, then one day he could perhaps be considered among the best in the history of the game.
To Pep, everyone is the same. Everyone is equally valuable. No wonder Samuel Eto'o was shipped out to Inter Milan in 2009. No wonder his replacement Zlatan Ibrahimovic was deemed surplus to requirements. Both of these players did not put the team before themselves, and that is just not acceptable as far as Pep is concerned.
When it comes to respect, I was very impressed with how much of it Guardiola - at 40, a relatively novice coach given that he took his first senior post at Barca in 2008 - has for the history of the game and how much players have for him.
Before, during and after the gala, Pep spent most of his time talking to Ferguson - the most successful British football manager after 25 trophy-laden years at Manchester United.
You could see the admiration in his eyes when he was speaking with the 70-year-old. Even though he has beaten the Scottish manager in two European Champions League Finals, and has an incredible haul of titles in his short tenure, it was clear to me he still felt like he was the apprentice and Fergie the master.
As far as Pep's relationship with his players is concerned, I can tell you it is incredibly healthy. They respect him and esteem him and would do anything for him. Because they are all treated fairly and equally, they feel comfortable in their own skin and don't have to try to be something they are not.
One final word about Messi. As Xavi told me this week, the 24-year-old will probably beat every record in his career, but let me tell you, he remains as humble as ever.
I interviewed Leo for the first time five years ago and I have spoken to him many times since, and he hasn't changed. The money, the fame and the lifestyle have not affected him one bit.
He is still a kid who just loves playing football and hasn't even realized how special he is. For the good of the game and Barcelona, I hope he never does.