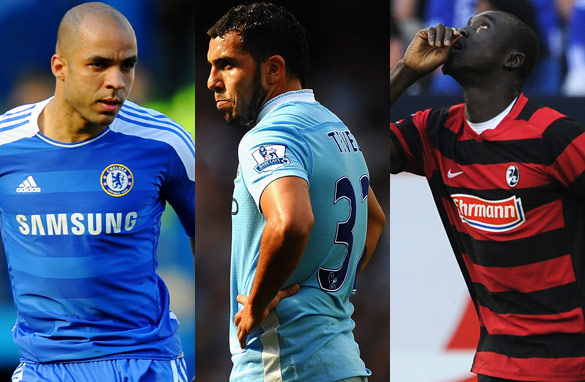 From left: Alex, Carlos Tevez and Papiss Cisse are among the top footballers who could be on the move this month.
European football's January transfer window is now open, and clubs have started to intensify their scouting efforts in a bid to improve their chances of living up to expectations this season. Many managers don't like spending a lot of money in the winter, but it could be the difference between success and failure.
I have taken a look at 10 players who realistically could leave their current clubs and strengthen many others around the world. Of course there are some star players who are expected to move soon, like Neymar or Wesley Sneijder, but I have not included them in my list since they will most likely be transferred when this season is finished.
So here is my list of the top targets this month. Some of them would be real bargains. Let me know what you think.
Carlos Tevez (Manchester City): The Argentina forward is volatile and moody, and has played more golf than football over the last couple of months, but is still one of the top strikers on the planet and would be worth a risk. Tevez has been publicly courted by AC Milan, who want an initial loan deal. It is clear he won't play under Roberto Mancini at Manchester City again, so the English club would do well to sell him for a fee of around $30 million. If they are holding out for $50-60 million, they won't get it.
Would be a perfect fit for: Paris Saint-Germain, Inter Milan, Arsenal.
Alex (Chelsea): It seems like the Brazil international has been around forever, but he is still only 29 and would be a great acquisition for any team who needs experience in defense. It baffles me that he was transfer-listed by Chelsea, and there should be no shortage of suitors. I believe he could move for a fee of around $8 million. Even the mighty Bayern Munich could be interested in picking up another solid center-back for that price.
Would be a perfect fit for: Arsenal, Milan, Bayern Munich. (Editor's note: Alex joined Paris Saint-Germain).
Papiss Cisse (SC Freiburg): Explosive striker whose goalscoring record over the last season and a half has been tremendous. He has scored 33 goals in his last 49 matches for Freiburg, a team that is average at best. The 22 Bundesliga goals he scored last season were the most ever by an African player in Germany's top flight. You may think he would not be a good investment considering he will be gone for nearly a whole month at the African Cup of Nations with Senegal, but I believe he would still be an asset for any team needing athleticism and fire power up front. Watch out for the 26-year-old, he will make a major impact at a major club very soon.
Would be a perfect fit for: Chelsea, Roma, Sevilla. (Editor's note: Cisse has since signed for English Premier League club Newcastle.)
Roman Pavlyuchenko (Tottenham): Frustrated by a lack of first-team opportunities at Spurs, the Russia striker is itching to move. His goalscoring record in the English Premier League is pretty good considering he hasn't played many full games. He is mobile, skilful, holds the ball well and is a great finisher inside the box. I believe he could be a real bargain with a bid of around $19 million sufficient to tempt Tottenham to sell him.
Would be a perfect fit for: Ajax, Borussia Dortmund, Napoli.
Leandro Damiao (Internacional): Even though he has failed to impress me when playing for Brazil's national team, I can't ignore his goalscoring record for Internacional. Damiao netted 40 times in all competitions in 2011 and has the speed and skill to become a quality striker. He would be a great signing for an up-and-coming team who can give him time to mature and get used to the faster pace of European football.
Would be a perfect fit for: Marseille, PSV Eindhoven, Malaga.
Milos Krasic (Juventus): The speedy Serbia winger has not fitted into Antonio Conte's tactical plan at Juventus and will leave Turin sooner or later. The 27-year-old was great for most of last season in Italy and would be a valuable addition to any team needing an element of pace and unpredictability in their attacking play.
Would be a perfect fit for: Chelsea, FC Porto, Inter Milan.
Andrei Arshavin (Arsenal): This man is an enigma. The Russia captain has shown flashes of brilliance since moving to London in 2008, scoring four goals in one match at Anfield against Liverpool, but more often than not he flatters to deceive. This season the 30-year-old has been especially poor, scoring only twice in 21 appearances and often looking disinterested when he's been on the pitch. I believe Arsene Wenger has failed to use him in his best position, just behind the striker. Since that won't change, he could leave this month.
Would be a perfect fit for: Valencia, Benfica, Fiorentina.
Fredy Guarin (FC Porto): The Colombia international has excelled at Porto since signing in mid-2008 and has declared his desire to move. He is not motivated in Portugal at the moment and is pining for a transfer to one of the world's top teams. Guarin is a multi-talented midfielder who can tackle, pass and score - a box-to-box player who would add strength in the center of the park. I have always liked to watch him play and believe he is ready to make the jump to a better league.
Would be a perfect fit for: Arsenal, Manchester United, Inter Milan. (Editor's note: Guarin joined Inter on deadline day).
Victor Caceres (Libertad): Not many people know much about the Paraguay international, but he has been a key player for his club and country for the last three years. He has won a total of five national titles and is ready for a move to Europe. A hardworking defensive central midfielder, the 26-year-old Caceres would fit in well in Italy or Spain. The English Premier League might be a little too fast for him right now.
Would be a perfect fit for: Paris Saint-Germain, Valencia, Bayern Munich.
Mounir El Hamdaoui (Ajax): A lot of people have forgotten about the Moroccan striker since he has been ostracized at Ajax after clashing with manager Frank de Boer. The 27-year-old may not have played at all this season, but he would still be a good addition to any side looking for a solid finisher. He scored heaps of goals for AZ Alkmaar (43 in 57 Dutch league games) and would come in handy for the second part of the season. He will be fresh and willing to prove his worth.
Would be a perfect fit for: Villarreal, Wolfsburg, Everton