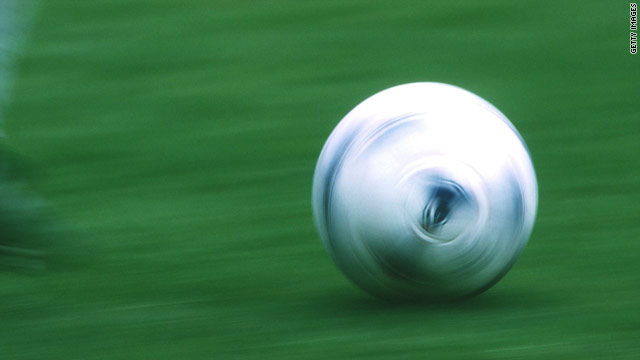 The football fields of the world are set for a thrilling 2012.
The approach of the New Year is often a time to take mental stock: to consider and reflect on what has past, while at the same time anticipating and renewing energies for what the next 12 months will bring. And it is with this philosophical dichotomy in mind that I have decided to share my thoughts on what 2011 taught me and what I hope to see in 2012.
Five lessons from 2011:
1. I will never pick Barcelona to lose a Clasico ever again ...
Leading up to the seventh and final Clasico of 2011, I predicted Real Madrid would beat Barcelona at the Bernabeu. It was my belief that Los Blancos were in better form and had matured enough to beat their eternal rivals. I was wrong. Barca still proved they are the best team on the planet, even if they were a little lucky on December 10th in Madrid.
2. You don't need great central midfielders to win the English Premier League ...
Michael Carrick, Anderson, Darren Fletcher. These were the players who had the most appearances in the center of midfield during Manchester United's last title-winning campaign alongside the now-retired and much-missed Paul Scholes. Would any of them get into champion sides from Europe's other major Leagues? I don't think so. Essentially, this shows that the fast pace of the game in England doesn't require the top teams to have incredibly skilled players in the engine room of the midfield. With wingers and forwards relied upon to make a difference, teams can survive with average or just plain solid players in the center of the park.
3. The English Premier League transfer market is ridiculously inflated ...
$55 million for Andy Carroll? $30 million for Stewart Downing? $20 million for Connor Wickham? I could go on … and don't think I have forgotten about Fernando Torres costing $77 million. However, the point I am making is that English players are overpriced and the Premier League transfer market only reinforces this. So many average players moved teams for fees over the $15 million mark and it makes you think why? The only answer I can find is that teams know they need home-grown players to comply with UEFA rules and since there aren't that many top quality English players, the better ones move for a fortune.
4. Go east for the future of football ...
This past year I travelled to Moscow to speak with Samuel Eto'o following his much publicized move to Anzhi Makhachkala. He told me many high-profile players had been in touch with him to ask about his lifestyle in Russia and the quality of the local league, adding that they were interested in following him East. It doesn't surprise me. The wealth makes out there makes Donald Trump look like a second-hand car salesman. I don't have a problem with lower profile leagues getting good players, I just wished the stars moving out there would move for the game, not for the cash.
5. Soccer needs youth at the top ...
Earlier this year, my interview with Sepp Blatter made the headlines when the FIFA president suggested racial abuse on the pitch could be resolved with a handshake at the end of the game. Obviously a man in his position cannot say things like this, and it shows there is a mentality that is out-of-touch within football's governing body. Ethics aside, goal-line technology? Instant replay? 2012 is just around the corner and I can't believe that at least one of those tools is not in use in the game today.
Five wishes for 2012
1. Pep Guardiola managing a new team ...
Who is the best coach in the world? Alex Ferguson, Jose Mourinho or Pep Guardiola? I would say Mourinho, not because I am Portuguese but because he has had success at four different clubs in four different countries. I love the way Pep has turned Barcelona into possibly the greatest club team of all time, but I want to see him at another club in a different league. Then we will really see the measure of his talents.
2. Andre Villas-Boas smiling ...
He is young, he is good looking but he is very grumpy, isn't he? AVB smiled during his first interview with Chelsea TV, but I haven't seen him do it since. I believe someone should give him some tips on how to deal with the media spotlight and show him that humor and sarcasm would do wonders for his image. Even if it has been a tough season so far, he has had opportunities to smile and he hasn't. Lighten up, Andre!
3. Less time-wasting ...
I am sick and tired of seeing players pretend that they are injured. How many hours of football are wasted every season by players rolling on the ground trying to win Oscars? FIFA and UEFA need to do something about it and fast. Enough is enough.
4. Arsenal spending money on a star player ...
Name the last high-profile player Arsenal bought. Andrei Arshavin? Samir Nasri? You get the point. Arsene Wenger has refused to spend big money on big players and their trophy drought will continue unless he changes philosophy. It's great to be contenders and it's great to play good football, but you need silverware, otherwise even your players will stop believing in your methods.
5. River Plate returning to Argentina's First Division
I was shocked when River were relegated last season and I would love to see them return to Argentina's top flight. The Superclasicos against Boca Juniors are part of football folklore and I really missed seeing those giants of South America clash this season. The good news is that Los Milionarios are on their way. Halfway through the season, they are in second place in the table. With David Trezeguet and Fernando Cavenaghi leading the line up front, they should have enough goals in them to get promoted.