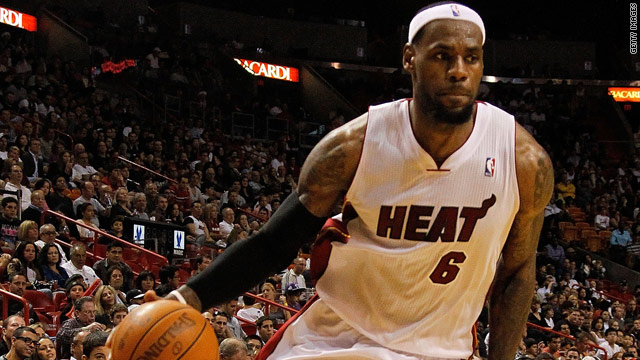 LeBron James showed on Christmas Day that he can lead Miami Heat to NBA glory this season.
The Miami Heat chose to remain in their locker room while the Dallas Mavericks celebrated their championship at mid-court before Sunday's season-opener for both teams.
Miami then came out and burned hotter than a pine forest in mid-August, building a 35-point lead in the third quarter en route to a more than comfortable opening-day win over the team that beat them in last season's Finals.
While the Mavericks were certainly distracted by the banner-raising ceremony prior to the game and are not as bad as the Heat made them look, there is no question that Miami's performance on Christmas Day was the rule and not the exception going forward.
Fans, critics and pundits alike must expect Miami to dominate this lockout-shortened season.
They must expect LeBron James, Dwyane Wade, Chris Bosh and company to bury teams early and often, just as they did to the defending champions on Sunday.
Compared to last season, the Heat are deeper, healthier and obviously more experienced. Add that mix to a team that was just two wins short of a title last June, and you realize that the Heat truly is on for this campaign.
If you are an avid Heat-hater and you're searching for any teams that may prevent "King James" from finally being crowned, look no further than the Chicago Bulls and Oklahoma City Thunder.
Both the Bulls and Thunder are young, deep and are led by superstars in Derrick Rose and Kevin Durant respectively.
The rest of the contenders are nothing more than pretenders. In the East, the New York Knicks may have acquired Tyson Chandler to play alongside the dynamic duo of Carmelo Anthony and Amare Stoudemire, but they don't play enough defense and don't have enough depth to make a serious run.
The Boston Celtics have struggled to stay healthy in recent seasons mainly due to their advancing age. With the condensed season bringing lots of games in a short amount of time, I expect that trend to continue.
Miami's in-state rivals the Orlando Magic are too distracted by Dwight Howard's inevitable departure to be taken seriously. Howard, who becomes a free agent at the end of this season, has already been tipped for a move to either the New Jersey Nets or L.A. Lakers.
Speaking of the Lakers, Kobe Bryant and Pau Gasol don't have the legs to run with the rest of the league's elite. The departure of Lamar Odom to Dallas and longtime coach Phil Jackson's retirement signal a changing of the guard not only out West, but in Los Angeles.
L.A.'s other team –- the historically woeful Clippers –- brought in Chris Paul to play alongside the high-flying Blake Griffin.
While they're sure to be must-see TV, they need at least another season to gel and be considered a force once the postseason rolls around.
As for the San Antonio Spurs and defending champions Mavericks? Both have tremendous quality and experience, but their best days are certainly behind them. Dallas may put together one final deep playoff run, but won't be a challenge for the Thunder or Heat.
The stage is set for LeBron to win his first NBA title. If Christmas Day's hardwood action was any indication, then "King James" and company won't have to stay in their locker room during next year's season opener.