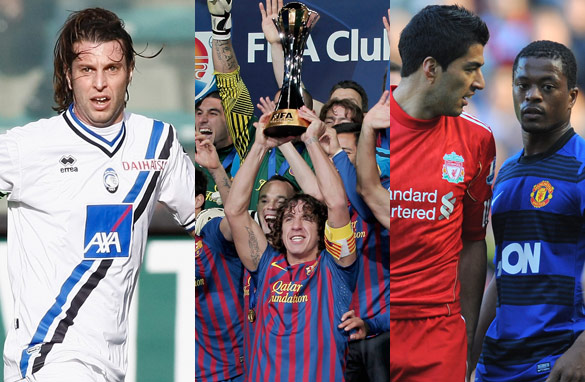 Italian footballer Cristiano Doni, European champions Barcelona and Liverpool's Luis Suarez have all hit the headlines.
Normally, on my weekly blog, I pick one football topic and discuss it at length. This week, I decided to do something a little different. There are various subjects I would like to discuss and since it is Christmas, I thought I would do something to make myself happy and talk about them all.
Firstly, I would like to congratulate FC Barcelona for being crowned FIFA Club World Cup champions. Let's face it, we already knew the Spanish giants were the best team on the planet, but now they have the trophy to prove it. I think it is fair to say we are running out of superlatives to describe Barca, aren't we?
This is the best football side I have ever seen in my lifetime, and considering how much tougher football is now than it was 40, 50 or 60 years ago I would be inclined to say that this is the best side to ever play the game.
The way in which they perform as a team is unique and that is what makes them special. Sure, they have someone like Leo Messi who has now gained legendary status even though he is only 24 years old - but it is the team which allows little Leo to shine, not the other way around.
Barca are so original and so special that they have even decided that they don't need to play with a striker. Therefore, as much as losing David Villa is a blow to Pep Guardiola, it wasn't a devastating event. The likes of Messi, Alexis Sanchez, Cesc Fabregas, Pedro, Isaac Cuenca and others will take care of business, even if none of them are pure strikers.
Something we have learned this week is that football authorities are getting serious about stamping out corruption. In Italy, a match-fixing ring was busted with former Azzurri international player Cristiano Doni involved, while in Spain, long-serving Sevilla chairman Jose Maria Del Nido received a prison sentence for fraud.
In the first case I have to say I am not surprised. An agent recently told me he believed there was match-fixing in most top leagues around the world. Considering how many illegal betting syndicates there were, and how so many people in football wanted to make money on the side, he told me he had heard many stories of how matches had been fixed in most leagues in Europe.
He added that the only league that was completely clean was England's Premier League, because as far as the others were concerned, he had heard too many rumors of referees, players and coaches being tempted to take money to affect the outcome of games.
Whether it is true I don't know, but football definitely has a problem that needs to be fixed.
Regarding Del Nido, it is a shame that someone who built such a good team at Sevilla that won back-to-back UEFA Cups was found guilty of embezzling charges. However, it is good to see that a powerful man can be brought down if there is proof against him. I grew up in Southern Europe and was always told that club presidents can get away with murder as long as they have money and their team is successful.
Whether or not England has problems with corruption, the Premier League's image has certainly been tarnished by the recent racism rows.
Liverpool's Luis Suarez has been suspended eight matches for racially abusing Patrice Evra during a match in October. I back the English Football Association 100% in seeking to stamp out racism on the pitch, but what will be the implications?  In every game I have ever watched live, I have heard players call each other the most horrible things. So where do you draw the line? Are there going to be cameras everywhere analyzing every word a player says?
I am absolutely sure that Suarez is not and will not be the only player to use similar language on the pitch. And I will be very interested to see what action the FA takes against Chelsea skipper John Terry once his February court case is over. England captain or not, he should get the same treatment as any player on the planet if he is found guilty of racially abusing Queens Park Rangers player Anton Ferdinand.
Finally, I wanted to wish all of you a Merry Christmas. Thanks for the comments you have been posting my recent blogs, even if many of them have been quite insulting. At least I appreciate your honesty like I hope you appreciate mine.
Even when I am wrong, at least you should take into account that I am putting myself on the line with a prediction. And for the record, I still think Real Madrid will win the Spanish title and I still think that Manchester City will not win the Premier League.