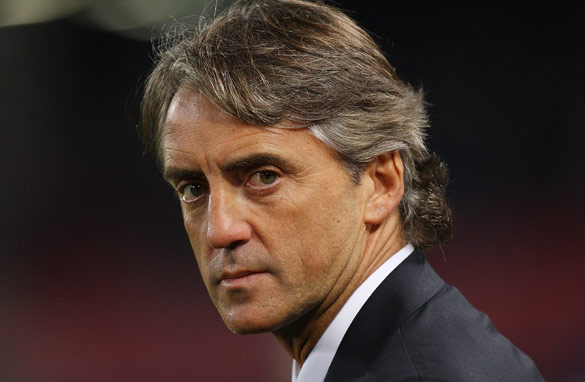 Roberto Mancini's Manchester City lost for the first time in 15 Premier League games this season on Monday. (Getty Images).
I've said it before, and I will say it again: Roberto Mancini is not the right man to guide Manchester City to major football honors. I will go further by stating that while the Italian coach is still at Eastlands, the Citizens will not win the English Premier League or the European Champions League.
My opinion is based on several factors, some of which were quite evident again at Chelsea on Monday when City lost for the first time in the domestic league this season.
My first argument is about the way Mancini has been building his team. With virtually unlimited funds, he has loaded his squad with too many world-class forwards and not enough top defenders. City have now gone eight Premier League matches without a clean sheet, and that is one of the reasons why they will not win the title.
Against Chelsea, the 47-year-old - a forward himself during his distinguished playing career - had the likes of Samir Nasri, Edin Dzeko and Adam Johnson as replacement attacking options. He had to bring on Kolo Toure, primarily a central defender, as cover after left-back Gael Clichy was sent off.
Mancini often struggles to make the right substitutions. When City went down to 10 men at Stamford Bridge, he took off the only players who could lead a counter attack - Sergio Aguero and David Silva - and replaced them with a defender (Toure) and a defensive midfielder (Nigel de Jong).
He basically conceded any hopes of winning the game with 15 minutes left, with the score level at 1-1, and decided to eliminate any chance his team had of scoring a quick breakaway goal. Someone like Nasri or Johnson could have provided a spark against a tired Chelsea defense on a heavy and soggy pitch. Furthermore, one of those flair players would surely have been able to earn a few free-kicks in City's attacking third and take the pressure off their defense for a few minutes.
In terms of man management, I believe Mancini has actually improved after clashing with several players such as Emmanuel Adebayor and Craig Bellamy in his first season at the club, but he has still made a mess of the whole Carlos Tevez saga. First, he accused the player of not wanting to come on as a substitute in the Champions League game against Bayern Munich, then it transpired the Argentina forward actually did not want to warm up again and never refused to enter the game.
Whichever way you look at it, Tevez was wrong, but this issue could have been resolved internally. By claiming, in a TV interview, that Tevez would never play for the club again, Mancini not only alienated a top player but also someone who has big influence in the dressing room. In my opinion, he lost more than he gained in that episode.
My final argument is simple: Mancini should have been able to guide City into the knockout stages of the Champions League. The players are good enough for that. Many of them would even be good enough to win the competition, if, like I mentioned before, there were a few more quality defenders around. They had some very tough opponents in their group, no doubt about it, but City should have been able to avoid defeat in Munich and in Naples. That's what top teams with top managers are able to do at the highest level.
Don't get me wrong - Manchester City are still good enough to challenge for the title, but they will come up short. Players win games, teams win championships, and in my view this team with this manager will never be good enough to lift the Premier League trophy.