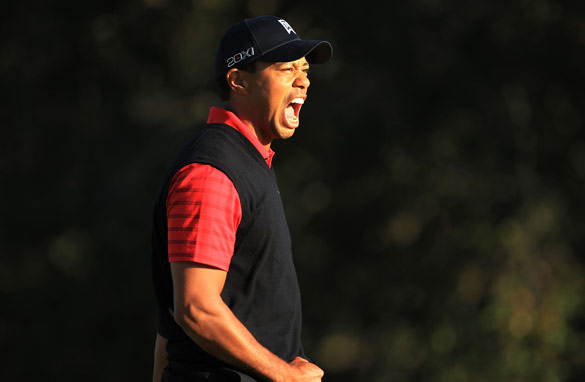 Tiger Woods celebrates his victory in the Chevron World Challenge but sterner tests await in 2012.
If you want to know why Tiger Woods isn't about to dominate golf the way he once did, watch Luke Donald and Rory McIlroy go head to head at the Dubai World Championship this weekend.
Suddenly the sport's focus is on two Brits –- 1st and 2nd in the world rankings -– battling it out to finish top of Europe's money list. In years gone by, that sort of headline-grabber would have played out in the United States.
But this isn't about a switch in golf's geographical power base; it's about a generational change. And the disappearance of Tiger's fear factor despite his first tournament victory for more than two years.
While it would be a stretch to include Donald in the rising ranks of brilliant young golfers (despite his youthful looks, he is 34), the Englishman is finally fulfilling the talent that's been evident for many seasons.
After four victories, three second places and 19 top-10 finishes in 2011, Donald has quite rightly risen to world number one –- despite his lack of a major title.
McIlroy, however, is at the vanguard of the players who are young, skilful beyond their years and impatient for success; not just the odd tournament victory here or there, they want major titles.
The 22-year-old from Northern Ireland has already done that, becoming the youngest winner of the U.S. Open since the legendary Bobby Jones in 1923. And that was despite the trauma of his last-round collapse in The Masters at Augusta just two months earlier.
Great things beckon for McIlroy, the cream of a crop that includes Australia's Jason Day, Americans Rickie Fowler and Keegan Bradley and Japan's Ryo Ishikawa.
Those players will have seen Tiger Woods' win at the Chevron World Challenge as a challenge, not a barrier. Their whole approach to golf is "Bring it on!"
And the same could be said for a slightly older, but no more daunted group, which contains the likes of Masters champion Charl Schwartzel, 2010 U.S. Open victor Graeme McDowell, big-hitting Dustin Johnson and 2010 U.S.PGA Championship winner Martin Kaymer.
Tiger Woods' cheerleaders would have us believe that he's about to turn back the clock several years, terrorize golf once again and storm past Jack Nicklaus' record of 18 major titles.
But the world has changed.