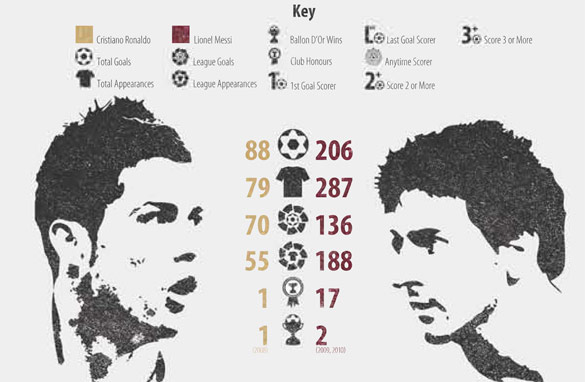 Barcelona's Lionel Messi and Cristiano Ronaldo will go head-to-head on Saturday (Image courtesy of Betclic).
1929. According to the Spanish football almanacs, that was the year the first league clash between Real Madrid and Barcelona took place.
Los Merengues came out on top then, and I think they will be the ones celebrating a victory when the dust settles at the Santiago Bernabeu on Saturday night.
Before the season started, in the European previews I wrote, I picked Real to win the title this year. I did so because in my mind, Jose Mourinho has had the necessary time and money to build a team capable of beating Barcelona.
Of course it won't be easy for them to win this weekend's game or this season's title. After all, Pep Guardiola's Barca is probably the best club side the world has ever seen, winning a grand total of 12 trophies in three years. However, it is my belief that the "Special One" has come up with a special formula to knock out his rivals once and for all.
Real are heading into "El Clasico" on a 14-match winning streak in all competitions. Depending on the Champions League result against Ajax on Wednesday, it could be 15. Of these 14 wins, only one was by less than two goals, so it has not been a case of luck, more of quality. This Real Madrid outfit is the finished article and that is why they will beat Barca.
It is difficult to pick just one reason why Real have improved so much this season. Obviously Cristiano Ronaldo has been superb, scoring 17 goals in 14 games, but it has been the work of the team as a whole which has impressed me. For example, if Mesut Ozil is struggling, then Kaka shines, if Karim Benzema snatches at chances, then Gonzalo Higuain comes on to score and so on and so forth. There is no question that the strength of this team is its attack and I don't expect that to change on Saturday.
So what about Barca, are they weaker? I would say so, and the results back me up. It has been strange to see them drop points in five of their 15 league games so far and they have seemed to lack ideas and sometimes even a little motivation to solve the problems they are presented with. Pep has tried to keep things fresh by deploying a 3-4-3 formation, but still the team has not been as effective or impressive as in previous seasons.
Of course Leo Messi has still been sublime. The Argentine phenomenon continues to dazzle and daze opponents on the field with ease and I expect him to score again this weekend. Did you know that he has netted 10 goals in the last 11 games against Real?
What I expect from this weekend's game is not just a clasico, but a super clasico. Head-to-head it is the best two teams on the planet. Real want to prove they are better than their rivals, while Barca want to show that they are still the best side in the world. My prediction is 2-1 Real and by the way, I honestly hope that both teams will finish the game with 11 men on the pitch.