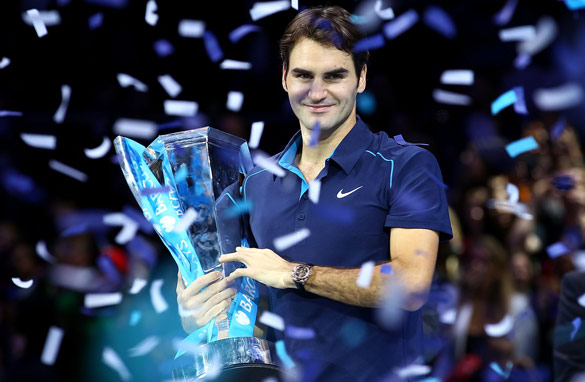 Roger Federer won a record sixth ATP World Tour Finals title in London.
Think Roger Federer's chances of winning another major title are over? Think again!
The 30-year-old father of two looks ready and raring to go after a fine finish to the 2011 season.
While his main rivals, Novak Djokovic and Rafael Nadal, whimpered out of the season-ending ATP World Tour Finals in London, the Swiss maestro sauntered through his round-robin group, beating Nadal 6-3 6-0 en route, before taking out Jo-Wilfried Tsonga in the final for the third time in two weeks.
The Frenchman was the only one to really give Federer a run for his money.
Despite his 17-match winning streak to end the season, which saw him lift the Basel Indoors title and the Paris Masters, this is still not the Federer of old – the one that won three major titles in a season in 2004, 2006 and 2007.
He's close though and his dream of winning gold at next year's London Olympics could well come true.
His body will hold up, as it has done throughout a history-making career that has seen him lift 16 grand slam titles, but the question is, can he come through the mental challenge?
He lost his way a few times this year, most notably when he dropped a two-set lead to lose to Tsonga in the quarterfinals at Wimbledon, and then did the same against Novak Djokovic in the U.S. Open semifinals.
On both occasions he looked uncertain and worried, instead of at ease and in control. It wasn't the Federer we're used to seeing.
Under the roof in Basel, Paris and London though, Federer resonated confidence and showed he is still the best indoor player in the world – his topspin backhand was working wonderfully, when sometimes it breaks down.
Outside, open to the elements, it will be harder for him to dominate. His opponents have worked out how to make life uncomfortable for him by bulldozing the backhand to open up the forehand.
And so, while winning multiple majors in 2012 is unlikely, my guess is he'll win one and maybe clinch the title he perhaps wants most of all – singles gold at the Olympics.
If that were to happen, my guess is he'd put all his efforts into winning the Davis Cup and then call it a career. There would be nothing left to do!