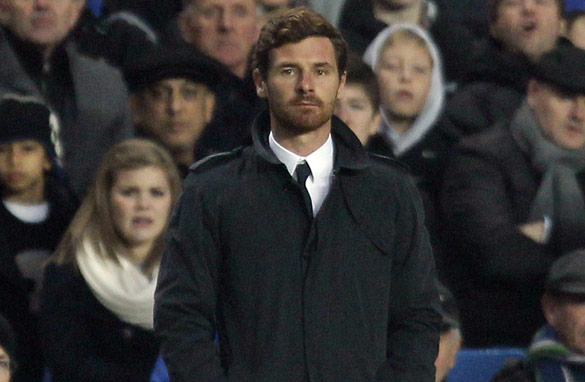 On the brink? Reports in the British media have suggested Andre Villas-Boas' position at Chelsea is under threat.
So, the English media has started to speculate about the future of Chelsea manager Andre Villas-Boas.
Many of the tabloids have already hinted that his job is in jeopardy and that Guus Hiddink is being lined up as a replacement.
Don't believe the hype. There is no way AVB will be shipped out anytime soon.
Let me start by saying that I agree Chelsea should be doing a lot better than they are now. After 12 games, the Blues find themselves 12 points behind Premier League leaders Manchester City and that is not good enough for a side that has challenged for the title every season for the past seven years.
Their run of three defeats in four league games is the worse since Roman Abramovich took over the club in 2003.
Therefore, I understand why there would be questions asked about Villas-Boas, especially if we consider his lack of experience. We must not forget that he is only 33 years old and has just two full seasons as a manager under his belt.
However, the thought that Chelsea owner Abramovich would fire a coach he paid $20 million to hire from FC Porto five months ago is an absurdity.
Furthermore, I believe the team has underachieved because of the players, not the manager. It is my opinion that the spine of the Chelsea side is too old and too stale and unless it is revamped, the Blues won't win anything any time soon.
Let me try to make a fair assessment of the performances of the key members of Chelsea's starting XI this season–
Petr Cech – The Czech goalkeeper, considered by many to be the best on the planet a few years ago, has made a series of mistakes. He was to blame for Liverpool's first goal at Stamford Bridge last weekend and also let in some uncharacteristically soft goals in other recent defeats.

John Terry – He hasn't been the same player since Ricardo Carvalho left. The England international keeps on being caught out of position and no longer has the pace to make up for it. Of course David Luiz hasn't helped JT's cause. The Brazilian is erratic to say the least and puts too much pressure on a man who fans must realize is in the final stages of his career.
Frank Lampard – The midfield maestro had a couple of games where he showed flashes of brilliance but right now he is simply too slow. His passing is still excellent and his attacking positioning allows him to score goals, but his engine can no longer take a whole game of running from box to box. The fact he doesn't have adequate cover (Mikel has been poor) accentuates the fact that Super-Frank just isn't that super any more.
Fernando Torres – What a roller coaster ride the striker has had since joining Chelsea. Where is El Nino of old? The one who was among the best finishers in the world? He certainly hasn't shown up since his mega move to London. His erratic performances mean AVB's 4-3-3 formation hasn't been working as well as it did at Porto with someone like Falcao leading the line.
You can be thinking right now that it is the manager's job to get the best out of his players. I agree. My point is that some of Chelsea's key players just aren't that good any more. Like Mourinho said a few years ago, it is tough to make a good omelette without good eggs, and Villas Boas is really struggling to find Grade A eggs at the moment.
What does all of this mean? It means AVB has to find a way to convince Abramovich that he needs time and he needs new players. This season the manager must win a trophy, any trophy, maybe the FA Cup, and buy some time to continue his revolution next season.
Only then can we judge his ability to build a team. Because right now he just doesn't have the players to suit his style of play. He just doesn't have the players that can compete with the likes of Manchester City and Manchester United.