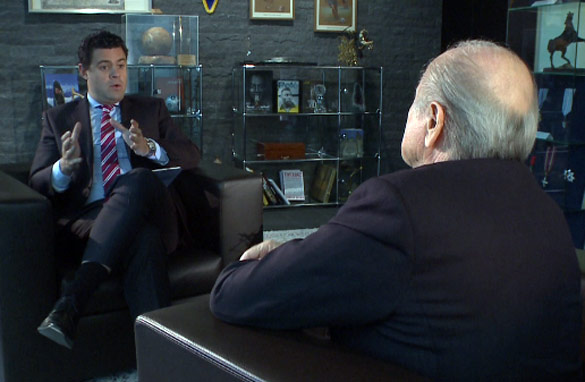 Before the storm: CNN's Pedro Pinto interviews FIFA president Sepp Blatter in Zurich on Wednesday.
Wow. What a day. When it started, at 7 a.m. in Zurich, I had no idea our interview would be the most talked about sports news headline of the day.
Last week, we had arranged an interview with FIFA president Sepp Blatter to talk about the new reforms against corruption at football's world governing body and the countdown to the 2014 World Cup in Brazil.
Other topics I wanted to discuss were the decision to release the ISL documents linked with past acts of alleged corruption, and racism on the field of play. The latter had been intensely discussed in England after two players were accused of alleged racial abuse in two Premier League matches and I wanted to get his take on it.
The interview started at 9 a.m. at FIFA headquarters and I knew I had 20 minutes with Mr. Blatter. CNN producer Chris Eldergill and I had prepared the topics well and I started by talking about how tough the last 12 months were for him and FIFA.
We then moved onto the reforms he wanted to introduce, and we only had a couple of minutes left when I asked the racism question. And let me be clear, my question was: "We have discussed racist behavior of fans before, but recently there have been some players accused of racist abuse on the field of play. Do you think there is racism on the pitch?"
Mr. Blatter told me he believed there wasn't. He said that many things are said during a match that players don't mean, so it shouldn't be taken personally. He then added that at the end of the match players should shake hands and move on.
In his many years of experience in football, Mr. Blatter has spoken with players, coaches and officials about the atmosphere on the pitch and how intense it can get. I myself have been to hundreds of games and have heard players say the most nasty things to each other. He believed that at the end of a game, footballers realize that many things are said in the heat of the battle and don't take offense to them. Therefore, they should be able to shake hands and move on.
After further reflection, I realized a man in his position could not be so dismissive of the subject. Especially when it was being investigated in one of the biggest leagues in the world. He had to take a stronger stance.
So, we wrapped up the interview and shortly after started to break down all the cameras and lights because we knew we were on a deadline. We wanted to get the interview back to our newsroom as soon as possible, especially because there were other television channels that were going to be speaking with Mr. Blatter later that day.
We also had a flight four hours later so, in order to be productive, Chris arranged with FIFA to work in one of their conference rooms. We edited the 20-minute interview into a five-minute block and sent the piece to our World Sport producers back in Atlanta. Then, we asked our colleagues in London to transcribe what the FIFA president said and send it to the main news outlets.
As we listened to the final version of the interview, we wondered how people would react to what Mr. Blatter said about various topics, especially racism on the field. I knew what he meant, but thought he should have said that FIFA were committed to fighting racism on and off the pitch. I suspected this might be the line a lot of people would pick up on.
I was right. As news started making its way around media outlets in England, there was only one topic they were talking about: Racism on the field. On the way to Zurich airport, we started to be bombarded with emails and tweets about the interview. I think I got at least 200 new Twitter followers in the next hour. I got messages from all over the world, even one from Manchester United defender Rio Ferdinand. It was unbelievable.
The stream of communication continued and before we knew it, our interview was on the BBC, on Sky and on ITN in the UK. It was bad timing for Mr. Blatter because his comments came on a day the English Football Association decided to charge Luis Suarez with alleged racial abuse during a match against Manchester United.
Later that night, when I finally had time to think about everything that had happened, I have to tell you I had mixed feelings. On one hand I was glad to have our interview quoted around the world, but I also felt the other topics we discussed in the interview should have been mentioned. CNN's World Sport showed the whole interview, but most other outlets didn't.
So there you have it. My take on what was truly a crazy day.