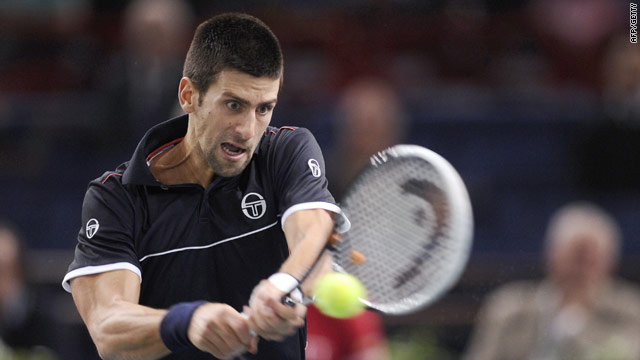 Novak Djokovic plays a return during his third round win over Victor Troicki in Paris.
To play, or not to play, that was the question facing Novak Djokovic – or so some thought!
As World No.1, the Serb was entitled to a $2 million bonus if he played all eight World Tour Masters 1000 tournaments and $1.6 million if he played seven of the eight.
Having already missed the Shanghai tournament because of a back injury, Djokovic had to play in Paris, or else he'd end up with nothing -– but then there was that reoccurrence of a shoulder injury in Basel. .
Only Djokovic knew how bad it was. Would he play at Bercy – would he pass – or would he show up, cash in and leave? Speculation was rife that he'd do the latter.
But, hang on. We're talking about a man who has won over $10 million in prize money alone this year and who has such a terrific image that he's now thought of as the biggest character in men's tennis, let alone the stand-out player.
Did we really think he was going to play one point against second round opponent Ivan Dodig and shake hands? Of course not! It would have ruined his reputation and put a black mark on a terrific year.
We'd all be talking about Djokovic the mercenary, not Djokovic the marvel.
Had he not thought he could have won the tournament, I believe he wouldn't have played.
It's as simple as that. With the ATP World Tour finals coming up there was no chance he would have risked further injury.
He said at the start of the tournament that this injury wouldn't worsen by playing, but it might become more inflamed and more painful -– and that's what happened as Djokovic withdrew before his quarterfinal match with Jo-Wilfried Tsonga in Paris with the same shoulder injury.
In typical fashion, he apologized to the many fans who bought tickets to see him and said quote: "I have pushed myself to the limit by playing and, after the match yesterday, my shoulder got worse. For this reason, I have to put my health first and withdraw - even though my urges as a professional player are making me want to play until the last drop of energy."
So now he has just over a week to recover until the season-ender, which is a final chance for him to stamp his domination on the rest of the field.
Despite the fact that he probably won't be 100% by then, who would bet against him? Novak has lost just four matches this season – two of which were retirements!