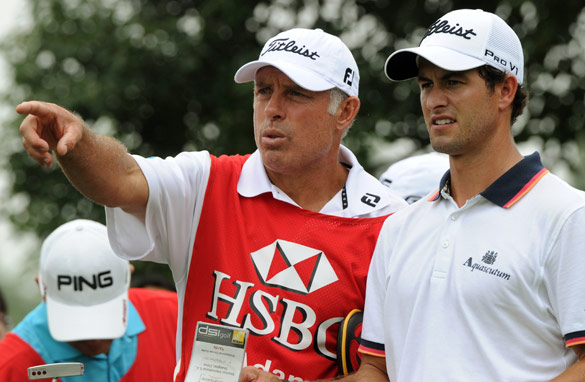 Under-fire caddy Steve Williams has been supported by his new employer, Australian golfer Adam Scott.
Tiger Woods' erstwhile bagman, whose brain has clearly not engaged with his mouth since being set free by his old employer, has done it again - but this time it's way more serious.
It was almost forgivable when caddy Steve Williams lost the plot last August, letting his emotions get the better of him in the aftermath of new boss Adam Scott's impressive victory at the WGC Bridgestone Invitational.
Having been bound and gagged by the Woods camp for 13 years and mightily well paid for his efforts, the burly Kiwi was clearly miffed at the way he was unceremoniously let go by the former world No. 1  and let fly with a rambling diatribe about Australian Scott's win being "the biggest victory of my life."
On Friday night in Shanghai however, the hapless Williams chose to let fly once again at an awards dinner. Quizzed about his on-the-green interview with CBS television's David Feherty in August, he quickly responded that "it was my aim to shove it up that black a**hole!"
Williams was viewed by many to be an idiot after his initial outburst in late summer. And now, as early summer hits the Antipodes, he has been roundly castigated for his latest comment - and this one is indefensible.
The digital age has now made it ridiculously easy to reveal information in an instant. So you can only imagine the urge felt by many in attendance at the HSBC Caddy of the Year Awards in China to divulge "Stevie's" latest faux pas. The caddying fraternity are a ragtaggle bunch of nomadic vagabonds, and given the precarious nature of the job, their skin is very much of the thick variety. Williams, by far the most successful of them all, should know better - but clearly doesn't.
It is true that these awards are a tongue-in-cheek affair and the banter quite merciless. Throw in a generous sponsor, an opulent setting, an invitation-only mix of players, bagmen and various insiders, and the concoction mirrors that of a stag party. Hence the demand that all comments made inside the room were off the record. In this day and age, that's impossible.
Quick to apologize having initially been taken aback that many British broadsheets had chosen to report the incident, Williams stated on his website: "Players and caddies look forward to this evening all year and the spirit is always joking and fun." He went on: "I now realize how my comments could be construed as racist. However, I assure you that was not my intent. I sincerely apologize to Tiger and anyone else I have offended."
Unsurprisingly, Woods' agent Mark Steinberg also issued a statement. "We got multiple calls from people who sounded like they were leaving the caddy party," Steinberg said. "Tiger obviously wasn't there. He doesn't know exactly what was said. But if multiple reports - which all seem to be accurate - are true, then it's sad it's come down to this. It's a regrettable comment, and there's really nothing that Tiger can do or say. He's just going to move on."
With a round to go at the final World Golf Championship event of the year, Scott has also been forced to state his position. Despite widespread calls to ditch his caddy ahead of the upcoming Australian Open and Presidents Cup, the world No. 8 has stated that he is standing by his bagman.
"Everything in that room last night was all in good spirits and a bit of fun, probably taken out of that room in the wrong context," he said. When asked if Williams should be fired, Scott said: "I disagree with that."
PGA Tour executive Ty Votaw stated on Saturday: "We'll have no comment publicly on this matter. The tour has the ability to discipline caddies of its members." But Votaw, a lawyer, said later that "the fact that we don't have a comment at this time doesn't mean we'll not have one in future."
Ahead of a massively important two weeks for golf Down Under, with Woods and other big international names in town for the Australian Open and then the Presidents Cup, the focus has suddenly been diverted and the game certainly deserves better.
The old saying is, "What goes on tour ... stays on tour." But only an idiotic fool could believe that to be the case now.