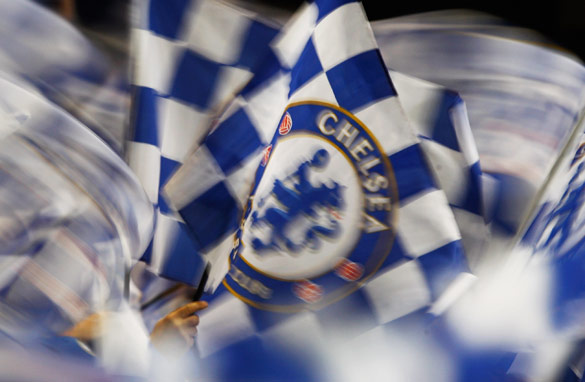 Chelsea fans were condemned by their own club for chants during a game against Belgian team Genk on Tuesday.
Football stadiums can be more than just arenas for the many who frequent the stands to watch their team. Like a church for believers of the faith, supporters flock to the communal ground of the terrace to cheer on the side, reaffirm identity with their "tribe" and to bond with their brothers in arms through shared experience and song.
The sight of individuals acting as a collective is as awe-inspiring in 2011 as one imagines it was in the Coliseum in Ancient Rome; when 10,000 souls sing in unison it is hard - nigh on impossible - not to be affected.
It is why sport, and football in particular, creates such a compelling spectacle for television - the drama on the pitch and the reaction of the crowd spilling forth from the screen to corrupt and convert the viewer, who may well be on the other side of the planet but can no longer ignore the significance of the event.
The forum which stadia provide to cheer, chastise and chant has long made football matches special; some argue such arenas are true bastions of free speech.
In Franco-era Spain, Barcelona's Camp Nou home ground was one of the few places it was possible to speak Catalan without fear of punishment. Dissent towards the Mubarak regime in Egypt existed among the ultra fans of Cairo clubs Zamalek and Al-Ahly long before it spilled into Tahrir Square, and their games after the Arab Spring saw the feelings of change conveyed in song.
Football chants not only provide a vehicle for identity but for the expression of wit and humor too. Playground banter is mixed with wry comment to generate entertaining, if sometimes crude, repartee which has a magic of its own.
When Liverpool played Chelsea in the 1960s, Anfield was beset by a thick fog which obscured the far end of the pitch. According to legend, when Liverpool took the lead fans from the end of the ground cloaked in mist, who had been unable to see the action, chanted to the other end, "Who scored?" The reply came back in song - "Tony Hateley" - to which the fog-obscured fans retorted: "Oh, thank you very much, oh thank you very much!"
But with expression comes an evaluation of what is fair to express and what is not. Some songs go beyond mere support and are there to cause offense. Such is the problem with sectarian chanting at games between Glasgow Rangers and Celtic, the Scottish government is currently considering a law that would ban the singing of offensive songs at football matches. A five-year sentence could follow for anyone found guilty.
Samuel Eto'o spoke passionately about some of the racial chanting he was subject to during his time playing in both Italy and Spain, and only time will tell how he fairs now he is plying his trade in Russia.
More recently the English Premier League clash between London rivals Arsenal and Tottenham Hotspur saw a minority of fans taunt Togo striker Emmanuel Adebayor about the gun attack on his national football team before the Africa Cup of Nations in Angola in 2010.
Adebayor was always going to incur the ire of fans after moving from one rival to another (with brief stops at Manchester City and Real Madrid in between, admittedly), but to sing songs about an incident in which three people died was beyond the pale for the clubs.
In a rare moment of unity between the two sides, a joint statement was issued which said: "[We] were extremely disappointed to hear the chants from supporters. Neither club tolerates foul language, racist chanting, homophobic chanting or any anti-social behavior from its supporters.
"We shall be working closely with each other to identify the individuals involved." Spurs added they would ban fans who were involved.
The fans were rightly admonished for their actions, and some would argue this is a good precedent to set for a derby game which has seen supporters from both teams - who both have a tradition of Jewish backing - subjected to notorious songs about Nazi gas chambers down the years.
The difficulty with the precedent for football more widely is in the determination of what constitutes an offensive song and a passionate, if witty, chant? How many soccer fans could honestly say they have never crossed the line?
It is a question that many of the Chelsea fans who traveled to support their team in a European Champions League clash against Genk on Tuesday should ask of themselves.
Chelsea captain John Terry is being investigated by both the English Football Association and London police over his alleged racial abuse of Anton Ferdinand during a west London derby against Queens Park Rangers last month. Terry was seen using a racial insult in video footage of the match, but the England captain insists he was telling Ferdinand that he did not use that phrase.
In response, hundreds of Chelsea fans in Belgium sang: "Anton Ferdinand, you know what you are."
For so many supporters to revel in a situation so serious it is being investigated by British police, and to sing a song that would condone the worst findings of any investigation, is nothing short of appalling.
It suggests there is still much work to be done to eradicate the expression of racist sympathies from the terraces.
And though it is a difficult area to police, especially when the chants - as with the Chelsea example - do not actually use offensive terminology, it is surely the responsibilty of every soccer fan to stay on the right side of the lines of good taste if any progress is to be made.