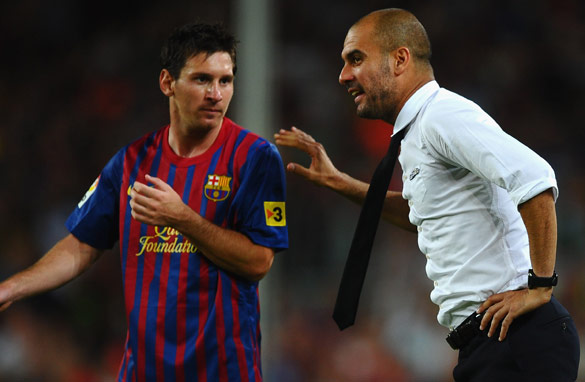 Will Barcelona star Lionel Messi and team coach Josep Guardiola be named the world's best in January?
There is little doubt in my mind that Leo Messi will be the FIFA Ballon d'Or winner when the award is handed out in Zurich in January of next year. As much as it would be interesting to speculate about who else could win it, there is no point.
Messi heads 2011 FIFA Ballon d'Or shortlist
There are a lot of fantastic footballers in the list of finalists unveiled on Tuesday, but Messi is the master.
This is a man who is head and shoulders above everyone else in the world of football right now. This is someone who is probably, along with Diego Maradona, Pele and Zinedine Zidane, one of the best players who has ever walked the earth.
He may be little, but any player wanting to wrestle the award away from him any time soon is going to have a tough time.
As a matter of fact, arguably his closest competitor is Messi's Barcelona teammate Xavi.
Considering he led Spain to their first ever World Cup title last year, the midfielder should have been crowned the best player in the world in 2010.
I have been a long time admirer of the playmaker's skills and believe he should have won at least one individual award over the last couple of years.
However, it is easy to understand why he didn't. After all, he has a much flashier teammate who scores bags of goals every single year, so it was always going to be tough for him to come out on top.
What about Cristiano Ronaldo, you ask? Well he is a phenomenal footballer, but the fact that Real Madrid have been playing second fiddle to Barcelona for the last few years, means he doesn't have much of a chance to win the award right now.
I know Cristiano reasonably well and I know he wants to be the best player in the world so badly it hurts. That's why he arrives early and leaves training late so often.
That's why he has worked so hard on his body to become not only a gifted footballer but a powerful athlete as well. What I think is missing from Ronaldo's CV is a career-defining goal.
Messi had the slalom against Getafe a few years ago in the cup. He has since scored some unbelievable solo goals while Ronaldo has become more of a finisher who, though deadly, does not dribble as much or as well as the little Argentine.
As far as the prize for best coach in the world is concerned, that has to go to Pep Guardiola, hasn't it? It's not what Barcelona win, it's how they win it – with a brand of football that leaves everyone hypnotized.
Pass after pass after pass and before you know it, the ball is in the back of the net. In my mind this is the best team the world has ever seen, and Guardiola has to get a lot of credit for their acheivements.
I can't wait to see him at another club. This might be his last season at the Camp Nou and it will be curious to see whether he can adapt to a different philosophy of football, or press his way of thinking onto another club.