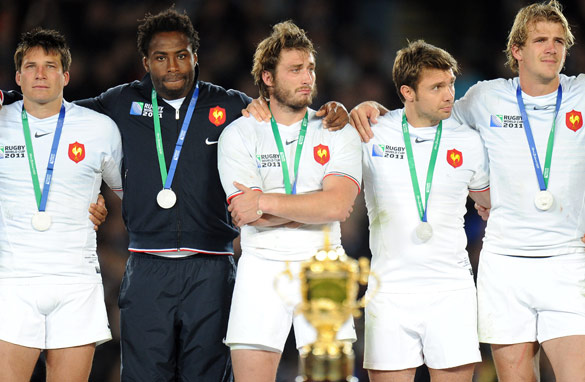 France can only look on as New Zealand are crowned Rugby World Cup champions.
I expected this blog to be about the glory of New Zealand rugby; a poetic tribute to the majesty of the All Blacks and their record margin of victory. Instead, France produced a performance that stood up, grabbed you by the throat and demanded to be acknowledged.
Les Bleus were meant to be the chorus, the supporting cast. Instead, they stole the limelight from the intended stars of the World Cup final. The hosts were the team of the tournament but France were better at Eden Park on Sunday.
As I fly out of Auckland, more than four million New Zealanders are rightly hailing their new heroes – the country's first rugby world champions for nearly a quarter of a century. Monday's victory parade brought hundreds of thousands flooding on to the streets.
Now, the names of McCaw, Carter, Read, Kaino, Dagg, Weepu, Nonu, and their team-mates will be remembered as fondly as Kirwan, Kirk, Gallagher, Fitzpatrick, Shelford and the rest of the class of '87.
However, I am in the frighteningly large pool of ex-players, pundits and journalists who must front up and say "Je m'excuse "to France.
Sorry that we underestimated you.
Sorry we assumed the first side to lose two World Cup matches and reach the final wasn't playing very well.
Sorry we thought a split in the camp would compromise your form.
Sorry for calling you lucky.
And sorry for labelling you the worst team ever to play in a World Cup final. You weren't. You were the best runners-up in the tournament's history.
You brought the final alive when you fronted up to New Zealand's Haka. You tore into the All Blacks in a way no other team had done at this World Cup. You rattled them; you shook their belief.
But in the end you were beaten by forces even more powerful: 24 years of hurt; the collective will of a nation, an exceptional team grinding out a result in a manner they'd never had to consider before.
Destiny was on New Zealand's side but France and their exceptional captain Thierry Dusatoir strained every sinew to defy the rugby gods. It was the most courageous losing performance since America's Ryder Cup golfers last year at Celtic Manor.
La France, we salute you. As New Zealand's national paper declared on its front page: "Sweet Merci."