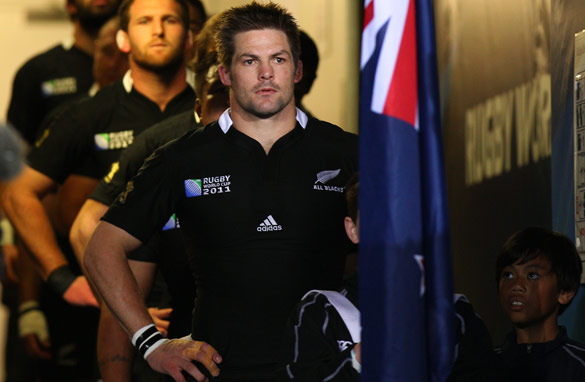 All Blacks captain Richie McCaw will be expected to lead New Zealand to glory in Sunday's Rugby World Cup final.
Like any other sport, rugby has plenty of clichés and one of them is to never write off the French. It won't apply on Sunday at Eden Park Stadium, though, and I expect New Zealand to win the Rugby World Cup final by a record margin.
A week ago, that would have been a bold prediction. Now, it seems a statement of the obvious. France's stock has plunged further than the global finance markets, while the All Blacks look every inch the number one-ranked team in the world.
Rugby means so much in New Zealand, and the pressure on the All Blacks to win this tournament is so vast, that my usual professional detachment briefly deserted me on Sunday. Even I felt nervous ahead of the hosts' semifinal showdown against Australia.
It was as if the nation's expectation had manifested itself as a physically heavier atmosphere, weighing down on everyone in the Auckland area. Imagine someone pressing down on your shoulders for several seconds and then the feeling of release when they let go.
Multiply that sensation by four million and you'll begin to understand the relief felt by the entire population here, now that the biggest obstacle to their team's success has been overcome. Right now, all Kiwis feel they can leap tall buildings in a single bound and such is their bond with their rugby team that that optimism will surely translate itself to the players.
It's different to the sort of complacency which has contributed to the All Blacks' downfall at previous World Cups. It's simply the realisation that, without tension, New Zealand play the best rugby on the planet and France will be overwhelmed.
Like any major sporting event, there is almost an army of ex-players and commentators here – but they're all scratching their heads trying to work out how a team as bad as France has got so far. Even the French coach has described his players as "spoiled brats."
Their attitude at the news conference before last week's semifinals was casual and a little insolent. They lounged in their chairs chewing sweets and even threw one to a reporter who, in a desperate attempt to establish a rapport, asked what they were eating.
France became only the second side in World Cup history to lose two pool matches and still qualify for the knockout stages. Then they had the good fortune to face an England team already reeling from its off-field indiscipline. And but for Sam Warburton's recklessness and a strict referee, Wales would surely have brought Les Bleus' lucky run to an end.
The two most one-sided finals in Rugby World Cup history were in 1987 and 1999, when New Zealand and Australia won by 20 and 23 points respectively. On both occasions, France were the losers and don't bet against anything less this time.