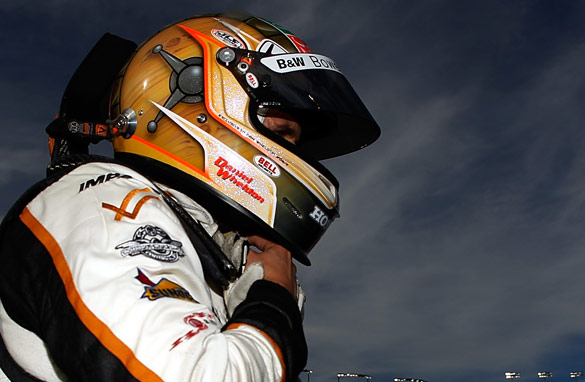 Dan Wheldon at the IndyCar World Championships in Las Vegas, prior to his fatal crash.
The death of British driver and two-time Indy 500 champion Dan Wheldon in Sunday's IndyCar World Championships at Las Vegas was graphic in its violence, distressing in its drama and a tragedy for all who knew him.
The 33-year-old, who started the race seeking to win a $5 million purse as victor, drove to his grave participating in the sport he loved.
IndyCar, America's most popular version of open-wheeled racing, is currently enduring its darkest hour as Wheldon's family and friends try to deal with his sudden departure.
In an era when technological advances have been so rapid in areas, from communication to healthcare, it seems inconceivable that a sporting celebrity can still lose his life in such a high-profile way, what is more disconcerting for those in charge of motorsport in America is that this is not a lone incident in the modern era.
Driving a fragile human body at high speed around a circuit made of stone in a vehicle made for speed is always going to be a risky business but in the last 20 years there have been 15 deaths in IndyCar and NASCAR combined.
Tony Renna, Paul Dana and now Wheldon are Indy drivers to have died racing since the turn of the century.
Just compare this to safety record of Formula One, a rival division of elite motorsport in which former champion Jackie Stewart maintained there was a two in three chance he would die at the wheel such was the high ratio of driver fatality during the 1960s and 1970s.
Since 1953, 36 drivers have died racing in Formula One; nine of these fatalies were at American circuits, seven at Indianapolis two at Watkins Glen.
The last person to die in an F1 race was the legendary Ayrton Senna in 1994, when the Brazilian drove head on into a wall at the San Marino Grand Prix. Sadly, it was the second death that occurred at Imola that weekend as Austrian Roland Ratzenberger died in qualifying the previous day.
Senna's passing, the drama of which was captured brilliantly in a documentary feature film recently, acted as a catalyst to drive through a raft of safety features for both the cars and tracks that figures like Stewart had long been calling for.
The governing body and FIA administrators like Max Moseley and Bernie Ecclestone deserve credit for enforcing the development of innovations such as the carbon-fiber monocoque shell that protects the drivers on impact, the neck brace that cushions the movement of the head and tethered wheels that do not fly into the crowd in a crash.
Many of these measures have been used by American motorsport and, ironically, Wheldon was a key figure in testing the 2012 Dallara IndyCars which are set to introduce a whole host of new safety features to the track next season - one of the key aspects being a bar over the wheels which would prevent cars flying into the air as Wheldon's car did.
However, a major problem for the sport, and one which Formula One no longer deals with, remains the danger of the banked curves, the compact oval circuit and unforgiving perimeters to such marquee races in the United States.
The introduction of innovations like the SAFER barrier (Steel and Foam Energy Reduction) and other varieties of soft walls have no doubt improved the situation significantly in terms how crashes are cushioned but, as the weekend's race demonstrated, the risk is still great.
The close promixity of the high-speed contest is central to the American culture of motorsport and it is this constraint that keeps the endeavor so perilous. In F1 there are run-off areas, gravel traps, tire walls and grassed areas that can provide a safety net.
In IndyCar, arguably, too many cars are racing at speeds that are too great leaving no time for reaction. The fact that safety cars are often counter-productive by actually bunching-up a more well-spread field can also compound what is already a difficult logistical challenge.
Maybe now is the time to question whether cars capable of such velocity should be racing on circuits like the Vegas bowl, which is signficantly smaller than the Indianapolis Speedway, and whether there is a need for drivers to have more margin for error in their sport?
In reaction to his friend's death, newly crowned IndyCar champion Dario Franchitti said: "[Racing] is what we love to do, it's what we live for." Hopefully, in the future it can also be a sport you do not have to die for.