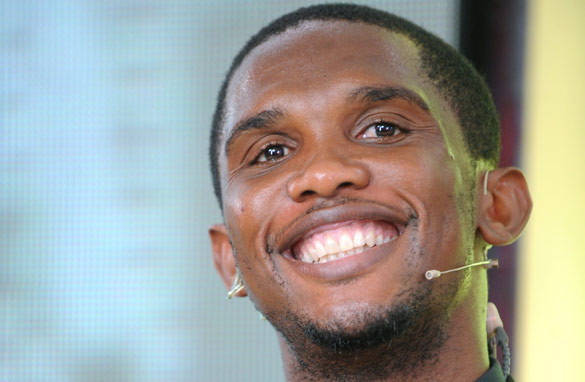 Samuel Eto'o smiles during the press conference to confirm his big-money move to Anzhi Makhachkala.
If it's attention they wanted, then it's attention they got. Russian clubs have splashed out some major cash this year, making their national league one of the most high-profile competitions in Europe.
With the new rich kids Anzhi Makhachkala on the block, a club linked with a new superstar practically every day, what are the implications for the transfer market? And what is the players' true motivation to play in Russia?
Be honest. How surprised were you when Samuel Eto'o actually moved to Anzhi? I have to say I was. When the story initially emerged and some of the numbers concerning the offer surfaced, I thought the striker would be tempted, but would prefer to stay at Internazionale at least for another season. He didn't need to go to Russia at this point in his career.
Needless to say I was wrong. The millions of roubles, and the challenge of playing and living in a different part of the world, tempted him enough to start a new and unexpected chapter in his career. The player himself said he had never considered playing in Russia, but the opportunity was too good to turn down.
The Cameroon star's transfer was definitely a coup for a club that not many people had heard of just a handful of years ago. Founded in 1991, this season is just Anzhi's fifth in Russia's top flight.
The first time most football fans heard about them was when, under new billionaire owner Suleyman Kerimov, they started signing some high-profile players like veteran Brazilian World Cup winner Roberto Carlos, Morocco midfielder Mbark Boussoufa and former PSV Eindhoven star Balazs Dzsudsak. When they got Eto'o, most people definitely stood up and took notice!
So who's next? Anzhi have been linked with the likes of Robin van Persie, Frank Lampard and Neymar. Normally one would say the club from Dagestan wouldn't have a prayer of landing such top players, but after the Eto'o deal, who would bet against it? And believe it or not, Russia has become quite a common place for international players to go.
All you have to do is take a quick look at the squads of Russia's top teams and you will see they are full of foreigners of the highest quality. Brazilian striker Wagner Love has been at CSKA Moscow for ages, Portugal internationals Bruno Alves and Danny have been shining for league leaders Zenit St. Petersburg, former Germany striker Kevin Kuranyi is at Dinamo Moscow, Paraguay's Nelson Haedo Valdez is at Rubin Kazan and so on and so forth.
The top salaries on offer in the region, combined with the increasing quality of the teams and stadiums, mean the RPL has actually become quite an attractive destination.
As encouraging as that is for Russia, especially with the World Cup heading there in 2018, it's seriously worrying for most of the other top leagues and clubs in Europe. All of a sudden they have another market they have to compete with for the best players on the planet.
In the past, top leagues such as those in England, Spain and Italy would know they had bragging rights when it came to attracting talent, but that is no longer the case. Some of the brightest young talents in the world could elect to head to Russia, at least for a couple of seasons, instead of plying their trade at the Santiago Bernabeu, San Siro or Old Trafford.
This is definitely a phenomenon we should keep our eyes on. If the trend continues, it will only be a matter of time before we see a Russian team reach the final of the European Champions League.