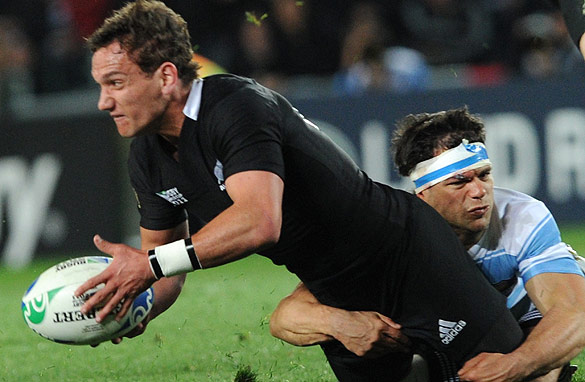 New Zealand's Aaron Cruden was supposed to be on vacation in Disneyland this weekend. (Getty Images)
This was supposed to be the final.
Until Australia lost to Ireland during the pool stage, the number one and two rugby teams in the world - New Zealand's All Blacks and Australia's Wallabies - were expected to top their groups and not face each other until the World Cup final on October 23.
But Ireland upset the tipsters, not to mention the Australians, and sent the Wallabies to join their Tri-Nations rivals on the other side of the draw.
Contests between Australia and New Zealand are always keenly fought, and two young tyros will be more closely watched than most of the others at Eden Park on Sunday.
Perhaps a key to Ireland's success over Australia was the lower back spasm that prevented David Pocock playing in the game. The 23-year-old they call "Bam Bam," for his Flintstone namesake's physique, is arguably the player of the tournament so far. His coach Robbie Deans, usually a taciturn figure, was moved to describe Pocock's man-of-the-match performance in the quarterfinal against South Africa as "immense."
Pocock has faced his share of adversity. Born in Zimbabwe, he moved to Australia as recently as 2002 after his parents' farm was taken over by the government of Robert Mugabe.
He was representing his new country three years later in age-grade rugby, but Pocock hasn't forgotten the country of his birth. He still travels each year to Zimbabwe and in 2009, he and a friend co-founded Eightytwenty Vision to promote a sustainable future for a poor rural Zimbabwean community.
But this weekend, the man Zimbabweans call the "Jackal at the Tackle" will be focused on rugby and his battle with All Blacks skipper Richie McCaw will be one of the semifinal highlights.
McCaw is a record three-time IRB Player of the Year, but he's been suffering from a foot injury all year which has stopped him training during this tournament. He wasn't his usual dominant self in the All Blacks' quarter-final victory over Argentina, missing a tackle which led to a try. The New Zealand Herald claimed he was missing his usual "mojo" in their rating of his performance.
McCaw's ability to turn over ball at the breakdown has long been criticized for its legality. No doubt he was smirking as South Africa blamed the refereeing of New Zealander Bryce Lawrence, who they believed allowed Pocock to slow down and disrupt the Springboks' forward play in their quarterfinal.
Despite enjoying a wealth of possession, territory and holding huge dominance in the scrums and lineouts, somehow the Boks contrived to lose a game they dominated in every statistic but the final scoreline. Pocock could take most of the credit but as McCaw has found in the past, he may find the ref takes a far greater interest in his performance this weekend.
Why the All Blacks must win the World Cup
Also being watched closely will be All Blacks flyhalf, Aaron Cruden. Two weeks ago, the 22-year-old was skateboarding around his Palmerston North hometown and, by his own admission, doing very little running. Last Sunday saw him running on to oversee the All Black backline in a World Cup quarterfinal.
The All Blacks have been plagued by crucial injuries to backline stars in this tournament. Groin injuries have ruled out star flyhalf Dan Carter. A similar injury then claimed his back-up Colin Slade. Fullback Mils Muliaina, a veteran of 100 Tests, is also out with a shoulder injury.
As a result, Cruden has been catapulted into the starting lineup and will run a familiar-looking backline that includes four of his Wellington Hurricanes teammates.
Meanwhile, Wallabies scrumhalf Will Genia is reported to have said the Australians will be targeting the inexperienced Cruden. However, the young New Zealander's dramatic rise and the pressure which goes with it likely pale into comparison with a health scare he suffered in 2008.
Cruden was diagnosed with testicular cancer and underwent surgery and then nine weeks of chemotherapy to bring the disease under control. With his cancer in remission, Cruden was named IRB Junior Player of the Year in 2009 after a strong all-round performance at that year's Junior World Championship in Japan.
Cruden's father Stu said the pressure won't get to his boy, and after surviving cancer he is just taking every chance he gets.
Cruden was supposed to be on vacation in Disneyland this weekend. Instead he has Pocock and the Australian team standing between him and a fantasyland World Cup final spot for the All Blacks.