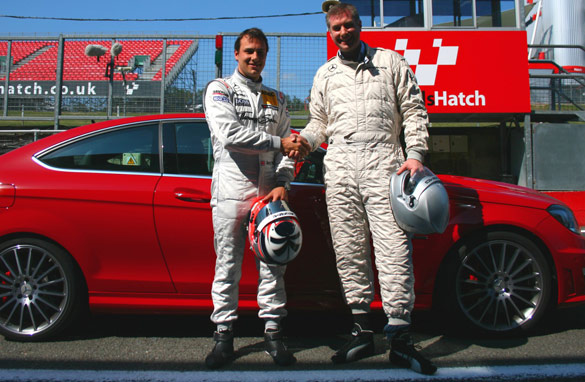 CNN's Don Riddell prepares to take to the track with F1 test driver Gary Paffett.
I have always been intrigued by athletes who can perform under pressure. While many would crumble when the heat is on, they not only perform, they excel.
Being a racing driver is about as pressured as it can get. At speeds sometimes in excess of 200 miles per hour, these guys have to make split-second decisions with courage and skill in order to win a race and stay out of trouble. The sort of trouble that can be very bad for your health!
I was lucky enough to experience first-hand what these drivers go through when former DTM champion and F1 test driver Gary Paffett agreed to teach me how to drive a Mercedes C63 at Brands Hatch near London.
All drivers like to inspect the track at close quarters, so we walked the circuit first to give me a simplified idea of what to expect. Gary then took me for a spin before handing me the keys.
My first thoughts were of how claustrophobic and hot it felt in a race suit and helmet - and putting my foot down just made the temperature rise. Brands Hatch is a small circuit with no real straights to speak of, meaning there is never any time to relax because every corner is a challenge that could end in disaster. Your foot is permanently tap-dancing between pedals, braking as late as you dare into terrifyingly tight corners.
The car is capable of traveling at 180 miles per hour (290 km/hr) and I have been asked since how fast I was going, but the truth is that I don't know. I never once took my eyes off the road to check the speedo!
It didn't take me long to realize that driving a high-performance car on a challenging circuit is incredibly demanding. It is mentally exhausting, and fighting against the laws of physics to keep the car on the racing line is physically draining.
When I mentioned to Gary that I was tiring, he rather curtly suggested that we return to the pits! Fair enough, no point in causing any unnecessary damage. I had been given a very priveleged glimpse into the world of a racing driver.
Gary was a great sport, and part of our deal was that he would experience my world for a day, so that was how he found himself next to me again but this time in front of a live camera presenting World Sport.
It felt very similar to our experience in the car, except the roles were reversed. There can be plenty of distractions in a live studio, but I suggested that Gary keep his eyes on the "road" - the teleprompter.
I also told him how important it was to be committed. One trick to being a TV anchor is to do it with conviction, be yourself, go for it, and never allow stray thoughts to enter your mind. All disciplines that I'm sure have helped him succeed on the track.
Just as I was nervous in the car, Gary had a few butterflies in the studio. But once he'd worked out that the teleprompter will keep up with your pace of delivery, meaning things can spiral out of control as you are forced to deliver lines at breakneck pace, he rose to the challenge and spoke almost perfectly.
For a beginner on live TV, a few minor stumbles were permitted .... After all, there were plenty of moments when I went way off-line on the track.
In many ways, our jobs are similar. They are both "live," forcing you to think quickly on your feet in real time under real pressure.
But the difference between us is that if you make a mistake at the wheel, there will be an expensive repair bill and you better like hospital food. If I make a mistake, live on air, usually the only thing that is wounded is your pride.
I think we were both only too happy to return to our day jobs, but we both had a lot of fun and I think have a newfound appreciation and respect for the other's profession.