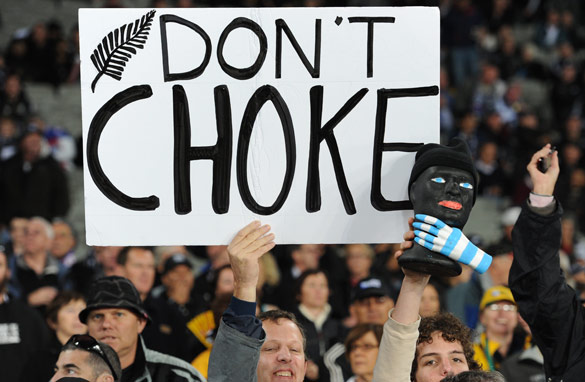 New Zealand fans hold up a banner urging the All Blacks not to choke during their clash with Argentina.
Flying to New Zealand for the final fortnight of the Rugby World cup is a bit like walking into the keepsake-crammed house of a collector; the obsession seems a bit unhealthy but you can't help admiring it just a little.
And it underlines how the hosts simply have to lift the trophy on home soil again, after a wait of 24 years.
It's as if the end of the world is nigh and the government wants to give advice to as many people as possible. That is, if a dearth of rugby was globally fatal and the only anecdote was posters of the All Blacks' players every few meters.
And I'm surprised that I'm surprised.
I've visited New Zealand several times before and it's love for the sport is well documented but now I am here - in rugby's most rugby-mad nation during rugby's biggest tournament - the "stadium of four million people" no longer seems an idle boast by World Cup organizers.
The mania hits you before you even reach the country.
On the plane, my in-flight entertainment included a documentary called "Cup of Dreams" – an emotional journey, charting New Zealand's love for its rugby team through the eyes of one young man and his relationship with his father.
In neighboring Australia, Sydney airport was plastered with adverts and an entire store selling only official World Cup merchandise.
"Just wait until you get to Auckland", joked the cabin crew on my connecting flight. They weren't wrong. Even the New Zealand airline's safety video has a rugby theme and features several All Blacks.
On the drive into town from the airport, as well as the official marketing, there are flags bearing the All Blacks' famous silver fern and home-made slogans plastered on homes and businesses – from a simple "Go the AB's" to an animated dot matrix sign reading, "Ready Quade? Cos Richie is" – a reference to the threat that New Zealand's captain and back row forward Richie McCaw will pose to Australia flyhalf Quade Cooper in Sunday's semifinal.
The sheer visibility factor of the tournament even tops what I witnessed in Mumbai, earlier this year, during the Cricket World Cup (although the celebrations when India won will be hard to beat).
On the surface, New Zealand is gripped by a kid-at-Christmas excitement but bubbling beneath that is a ripple of fear. For the sponsors and marketers, it's the fear of missing a commercial bonanza but for the fans it's deeper than that.
If the All Blacks lose their nerve again and don't lift the Webb Ellis trophy, the supporters' dream collection – of a second World Cup triumph on home soil – will vanish, possibly forever.