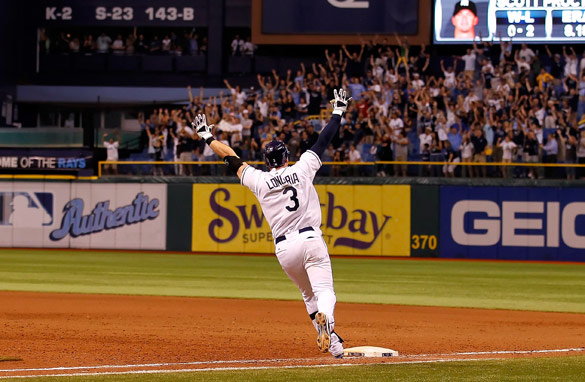 Despite the Rays' heroics on the regular season's final day, the playoffs could still prove a predictable affair.
After watching what was arguably the most exciting day in Major League Baseball history on Wednesday, one may come to expect more of the same drama in the upcoming playoffs. Sadly, that won't be the case.
On the final day of the regular season, the Tampa Bay Rays and St. Louis Cardinals completed their remarkable September comebacks to claim baseball's final two playoff spots at the expense of the Boston Red Sox and Atlanta Braves respectively. Or you can also say the Red Sox and Braves completed their epic collapses, it really doesn't matter.
What does matter is that Wednesday showed to all sports fans what the competitive spirit is all about. It showed that the never-say-die attitude the Rays and Cardinals displayed can actually get you somewhere. In their case, it got them to the postseason, where they'll look to maintain their momentum against stiffer competition.
But no matter how much of a feel-good story both teams produced, it doesn't change the fact that the World Series will be contested by the Philadelphia Phillies and New York Yankees.
Both teams have been their league's standard-bearers practically all season. The Phillies won a team-record 102 games, while the Yankees reached the playoffs for the 16th time in the last 17 years.
The Phillies feature baseball's best pitching staff while the Yankees scored the second-most runs behind only the vacation-bound Red Sox. It's really a no-brainer to assume the two teams will reach the World Series.
After all, both teams have won the championship within the last three years. The Yankees beat the Phillies in the 2009 World Series to deny Philadelphia a second-straight title.
So get ready for another New York v Philadelphia showdown in the Fall Classic. The Cardinals and Rays' comebacks gave the casual sports fan reason to expect the unexpected.
I say expect the expected.