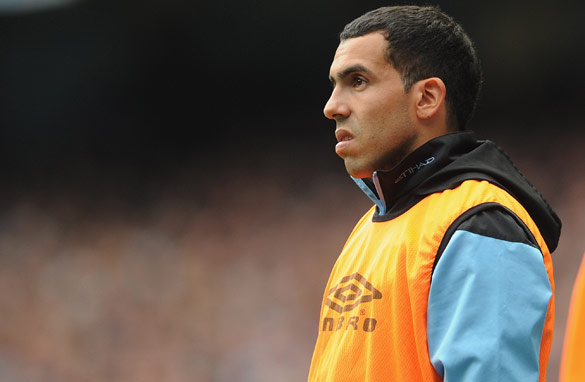 The controversial Carlos Tevez muses over his employment predicament.
In the spectrum of jobs and career paths that exist in the world, some garner more envy than others. A survey by CareerCast.com in January 2011 found that - based on factors such as work environment, income, outlook, physical demands and stress - employment as a construction worker, taxi driver and lumberjack figured in the top-10 worst jobs in America.
Arguably there are worse to be found on the planet: what about diamond mining in Sierra Leone, gun running in Afghanistan or trafficking for a Colombian cocaine cartel? All the jobs above could warrant a call for better conditions. To strike as a drugs mule would be a bold move given the poor record of staff retention by the employer, but the employee would surely have the sympathy of others in less dangerous pursuits for wanting a better way to earn a living.
Curiously, for the mind of Argentina striker Carlos Tevez at least, "football player" was not included in the list. And the diminutive goal-getter may argue that the collator of the rankings has been remiss in overlooking such a back-breaking way to raise a wage.
After all, who else would not feel aggrieved with such a role? His wages at big-spending English club Manchester City wages are rumored to be close to $400,000 a week, a figure so great it must be a trying and taxing experience to figure out just what to spend it on let alone carrying the vast weight of sterling to the bank.
The adulation from soccer fans around the globe is clearly an irritation and certainly would intrude on your weekly shop for the groceries wherever you may happen to be in the world. Of course, it doesn't help when you sign up to lucrative sponsorship deals that exacerbate such a problem, but privacy is a human right is it not?
And then there's all that running around! Passing, shooting, tackling and heading are undoubtedly tiring exercises over 90 minutes, and to do this three times a week? Well, it's enough to exhaust the fittest of proletariat.
It can only be imagined that some of the factors above combined in the head of Tevez when, according to his manager Roberto Mancini, the 27-year-old refused to take to the field of play as a substitute in Manchester City's 2-0 defeat away to Bayern Munich in the Champions League on Tuesday night.
The fact that it was his side's first away tie in Europe's biggest and most lucrative club tournament did not matter, or that his team were losing and were in need of his undoubted talent. Seemingly, it did not cross his mind that many thousands of fans had paid exorbitant amounts to travel to the home of the Oktoberfest to cheer on the side they love, or that the hard-earned money of these supporters helps to pay his wages each week.
Tevez, in response to Mancini's accusation that he refused to play, said: "There was some confusion on the bench and I believe my position may have been misunderstood." A statement which runs contrary to the comment he gave straight after the match to pitch-side reporters, where he bemoaned the fact the club had not let him leave in January as he wished.
There is of course also a small matter of the contract he signed with City, in which he agreed to play in such situations - i.e. football matches - that he also, if Mancini is proved right, flouted in a moment of petulance.
The Tevez "situation" is far from clear, with his contractual status and the ownership of his services - first with Corinthians in Brazil, then with English sides West Ham United and Manchester United - mired in controversy and complexity. There may well be compelling reasons, of which we are currently unaware, that are justifiably creating his mood.
But, as commentators, we can only judge what is in the public domain, and what was on show at the Allianz Arena was everything the modern-day footballer is criticized for. Overpaid, egotistical and unappreciative is the way many millionaire soccer stars are perceived, and Tevez is cementing that stereotype.
What excuse is there for refusing to play a game that brings joy to more millions of people on planet earth than any other, and pick up a hefty pay packet while you're at it? To put such a capricious notion above all else is to show disrespect to the same millions around the world who have no choice over the poor working conditions they must endure to survive. The same millions who would give anything to swap places.
Compare the Tevez tantrum with the thoughts of former Manchester United and City legend Denis Law earlier this week. In an interview with the BBC to promote his new book, he said he would not have swapped his time in the game to earn more money.
"We played (not to get rich but) to give the hard-working people who attended the games something to feel happy about each week, and that's how I liked it," Law said. Who can say if Tevez will remain as loved when his career is over ...