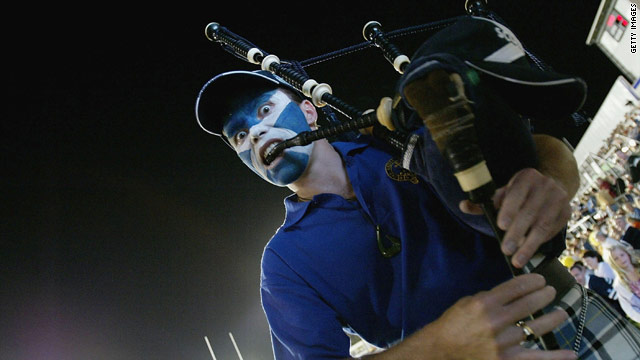 Bagpipes are a huge part of the occasion for Scottish rugby fans. (Getty Images)
 (CNN) - Last year's soccer World Cup in South Africa was memorable for many reasons, not least because of the distinctive sound of the vuvuzela.
The colored horns provided a unique soundtrack at every match and despite the predictable complaints from killjoys, the din added to a carnival atmosphere.

This year's Rugby World Cup has already proved itself to be as colorful, with supporters converging on New Zealand from across the globe with their replica shirts, flags, painted faces and even the odd Spiderman costume.
But if you've watched Scotland grind out their recent wins over Georgia and Romania, one thing has been missing among their kilt-wearing supporters – the sound of bagpipes.
That's because tournament organizers have banned them from all World Cup venues, along with all other musical instruments. They've also outlawed umbrellas, flags with poles of a certain length and - rather curiously - car parts.
Car parts you can understand. But bagpipes too?
This is all the more surprising when you consider the Scots were playing in Invercargill, a small town in New Zealand's South Island with a rich Scottish heritage. Even its streets are named after rivers in Scotland.
The current captain of New Zealand's All Blacks, Richie McCaw, also boasts Scottish ancestry and is known to be a keen piper.
Now one Scottish fan is so incensed that he has written to New Zealand's Prime Minister, John Key, to complain. He has also started a Facebook campaign to overturn the ruling, which now has almost 600 supporters.
"After spending considerable money getting to New Zealand to support my country, I was shocked to hear bagpipes were not allowed in the stadiums," Matthew Strachan, a doctor from Aberdeenshire in Scotland, told reporters.
"I've played the pipes in most of the UK stadiums and also in France during the last World Cup and they have always been gratefully received. Why then after many sporting years have the World Cup organizers decided against having them in stadiums?"
Officials have reportedly outlawed bagpipes amid fears they could distract Scotland's opponents.
"When you arrive at the ground and are warming up, you quite like to hear the sound of bagpipes, Scotland's kicking coach Duncan Hodge told the New Zealand Herald, as the team prepared to face Argentina.
"The Argentineans I'd imagine would have all kinds of support, so it would be nice to cancel that out with a few bagpipes."
The Scottish Government in Edinburgh was also sympathetic to the cause.
"We are sure this is merely an oversight and the sports minister has written to the organizers of the rugby World Cup in New Zealand to request this position is reversed," a spokesman told the Scotsman newspaper.
As a Scotsman myself, we need all the help we can get at this tournament. Let common sense prevail here.