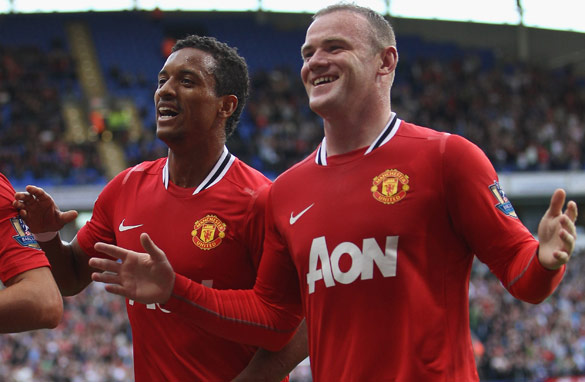 The impressive form of Nani (left) and Wayne Rooney (right) has been key to Manchester United's impressive start. (Getty Images)
I was very surprised when I found out Manchester United had made their best start to a league season in 26 years. Since Alex Ferguson took over at Old Trafford back in 1986, they had never won their first five games.
It made me wonder: Is this team really that great, or is it that the other traditional contenders are just not that good anymore?
Having considered this question for a while, I decided it is the latter option which is closer to the truth.
And here is my argument why.
Let me start by establishing the fact that Manchester United has a great squad. Wayne Rooney, Nani, Chicharito, Rio Ferdinand and Nemanja Vidic are all world class players.
However, if you consider the fact that Ferdinand and Vidic have missed most of the season so far due to injury, and that the team's central midfielders are quite average, it is very surprising to me United have been able to win every single one of their first five league matches. Especially when you look at the calibre of the sides they have played: the likes of Tottenham, Arsenal and Chelsea.
Before I get into what has gone wrong at some of the top teams in England, let me delve deeper into what has gone right at Old Trafford. Ferguson deserves a lot of credit for what he did over the summer. He may have lost several influential senior squad members such as Edwin Van Der Sar, Paul Scholes, John O'Shea and Wes Brown.
But you wouldn't know it from the performances so far, would you?
The players that have been brought in are faster, hungrier and better. The recruiting strategy was spot on and youngsters such as Phil Jones, Ashley Young and the returning Danny Wellbeck –- who spent last season on loan at Sunderland - have fitted in perfectly.
The winning mentality has been passed on by some of the more established players and the transition has been seamless.
How well the transition has been planned and executed at United has been the key to their success in comparison to what has happened elsewhere in the Premier League. All of the traditional contenders are also rebuilding, but they have done it a lot worse than the defending champions.
Take a look at Arsenal. Arsene Wenger's reluctance to spend money on quality reinforcements for several seasons meant his top players forced their way out of the club and he was left with just a few days to replace them.
At Chelsea, the revolving door bringing in a different manager practically every year hasn't helped, and so far this season Andre Villas-Boas hasn't had time to impose his tactics and his philosophy on his squad. Add to that the fact that the most expensive striker in the Premier League can't score to save his life, and you realize why they are not firing on all cylinders yet.
Further north, Liverpool are also in transition. Kenny Dalglish has had a lot of money to spend but he hasn't found his strongest XI yet. That was proven once more on Sunday against Tottenham when Andy Carroll was anonymous and Jordan Henderson ineffectual yet again.
Last but definitely not least, Manchester City are looking very strong but their failure to sign at least one world class central defender will come back to haunt them. They will score at will this season, but Joleon Lescott, Vincent Kompany and Kolo Toure aren't good enough to keep clean sheets week in and week out. City are on their way to becoming a force in the Premier League, but they aren't there just yet.
As far as I am concerned United deserve a lot of credit for their spectacular start, but this is not, at least not right now, the best team Ferguson has ever managed at Old Trafford. They are making the most of the fact that the others just aren't that good.