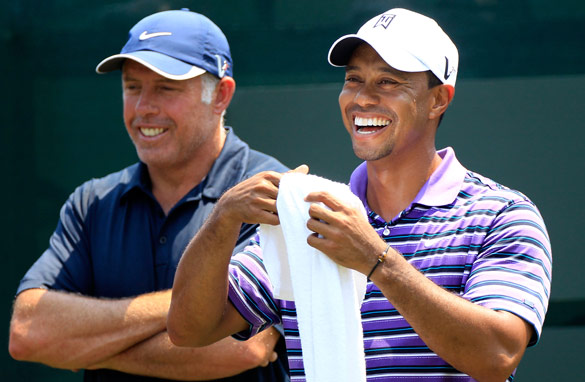 Steve Williams (left) and Tiger Woods (right) enjoyed a successful relationship until their split earlier this year. (Getty Images)
Professional caddies do much more than just carry a bag for tournament players, what they provide should not be underestimated.
Caddying is a very well paid job for those good enough to attain the best bags and the individuals who chose this nomadic existence now come from a wide variety of backgrounds and not just the caddy shack clique of years gone by.
Australian Steve Elkington was so pleased with his caddy Dave Renwick's performance at the 1995 PGA Championship, where he defeated Colin Montgomerie in a playoff; he presented the Scot with his entire winnings.
Arnold Palmer, Jack Nicklaus, Lee Trevino and Tom Watson always used the services of local caddies when they set about winning multiple British Opens. For them, local knowledge and a serious familiarity with the vagaries of links golf were worth several shots per round. Consequently, Tip Anderson, Jimmy Dickinson, Alfie Fyles, and Willie Aitchison became sought after figures by those on tour.
Nicklaus became so fond of Dickinson that he moved him to his club in Muirfield Village, Ohio, and set him up as caddymaster.
Nick Faldo won four of his six majors with a female caddy, the Swede Fanny Sunesson. Notoriously well organised and disciplined, she remained discreet and unwilling to give interviews to the media during her time with the Englishman. The sound of her boice unknown until she demanded hush from the spectators at a tournament.
A caddy is many things on Tour: friend, confidante, minder and most importantly, bagman. That last term may sound dismissive but it sums up the relationship which, let's not forget, is a professional one.
We're not talking Jeeves and Wooster territory here, but the modern day caddy has a multi-faceted role that does require a delicate ability when dealing with the often fragile mind of an elite sportsman.
While the pro is usually a self-obsessed, highly motivated performer, his looper requires the skills of a mind reader and part-time psychologist just to get through the working day.
Predicting everything from the weather conditions to the 36 hole cut mark is grist to the mill for the caddy. Judging when and where to say the right thing to your employer is an art form in itself and those who do it best invariably find themselves good employment on the lucrative professional circuit.
Lee Westwood is on record as saying that his caddy Billy Foster is the best in the world, and his credentials would certainly suggest that after carrying the bag for Seve Ballesteros and Tiger Woods.
At 46 years of age, he's been making a living out of the game for over thirty years and does not suffer fools. It is well know that he fired Westwood's stablemate Darren Clarke some years ago when he felt that the future British Open champion was not fulfilling his potential and in many ways, squandering his talent.
Chubby Chandler, who manages both Westwood and Clarke remembers going down on his hands and knees begging him to rejoin Clarke, which he did, but not after negotiating one of the best remuneration packages in the game!
Foster is always prepared; if there's one thing that guarantees a P45 in professional golf it's a caddy who doesn't have his homework done.
A good natured and popular man on Tour, Foster would never have allowed such a venting of frustration as was witnessed last month when Steve Williams decided to open up to the media.
The old adage regarding the essential skills of caddying, namely: "show up, keep up and shut up" may not paint as accurate a picture of the modern day caddying life, but quite openly claiming some credit for a player's victory, as Williams clearly did, made for uncomfortable yet compelling viewing.
On the back of losing his job as Tiger Woods long-time caddy, Williams was alongside his new employer Adam Scott for the biggest win of his career at the Bridgestone Invitational World Golf Championship.
Clearly buoyed by the Australian's dominance, ultimate success and the loud cheers that he received from the galleries, Williams lost a sense of perspective with the world watching.
Upon leaving the green after his man had holed the winning putt, Williams lingered, he was ready to vent. And that he did, barely disguising his upset at being let go by Woods and describing the win with Scott as the best week of his life.
Standing shoulder to shoulder with Woods as he accumulated thirteen majors didn't even come close.
There's no doubt that Williams unswerving loyalty and physical presence contributed hugely to the protective ring around Woods throughout his dominant years on Tour. Williams wasn't the one hitting the shots, but he was the first layer of defence for Woods as he ruthlessly cocooned himself in pursuit of the game's greatest titles and records.
It's sad however that when the curtains came down on their working relationship that it quickly became mired in pettiness and recrimination. Sackings may be an occupational hazard in professional caddying, but there is no substitute for keeping your head down and your mouth shut.