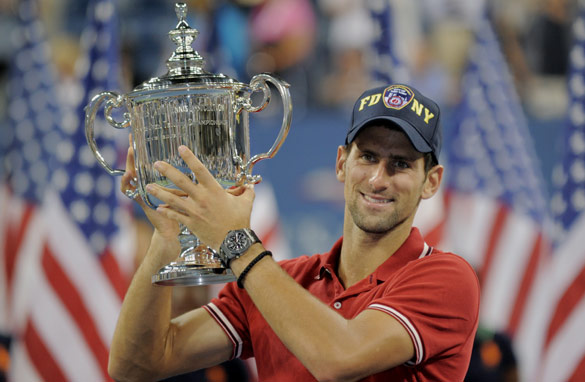 Novak Djokovic has won three Grand Slams in 2011 and lost only two matches. (Getty Images)
Five other men have won three major titles in one year in the Open era, but none so emphatically as Novak Djokovic.
The Serb secured his maiden US Open title on Monday with his sixth straight win, all in finals, against the man who was so dominant last year, Rafael Nadal.
This latest victory took Novak's 2011 record to an astonishing 64-2 and only one of those matches did he actually lose - the other was an injury retirement in the Cincinnati final.
John McEnroe lost three matches in a full season back in '84 so that's the Serbs next challenge, oh, and getting his nation through to the Davis Cup final.
Novak confirmed in his post-match press conference that he would be on the team for Friday's semi-final with Argentina in Belgrade, despite the Open's late finish.
As the Champion he has plenty of media requirements to fulfill before leaving the U.S., so it will be a race for him and his team to prepare for the tie, but we all know the passion Novak feels for representing his country.
Sleep deprivation and a back injury won't stop him and that's great news for Serbia as their sporting superstar can almost rack up two rubbers by just stepping out on court!
How do you beat Novak? Don't ask Nadal. The Spaniard tried to mix it up at the start of Monday's final, throwing in several short slice backhands to take Novak out of his comfort zone, and it worked for the first two games.
But then the world number one quickly adapted and from then on was in control, despite a slight blip in the third set when he failed to serve it out at 6-5.
In the fourth, after having treatment on his back and throwing in 90 mph first serves, he went on to power to victory 6-1. It was an awesome display of force and precision. He did everything better than Nadal, with his backhand down the line, a game changer and a thing of real beauty.
All that was left to do was to seal the victory with an inside-out forehand and clutch his head in disbelief, while his team celebrated widely in his box.
It was four-plus hours of remarkable tennis and full credit should go to Rafa as well for his never-say-die attitude. His time will surely come again, but 2011 is Novak's year.
When asked what he had eaten before the final, the Serb said it was too boring to go into, but that it contained no gluten.
He laughingly added the victory dinner would involve lots of gluten and plenty of alcohol too!
Djokovic, the true entertainer and despite a tired body and mind was even willing to join me for a victory dance at the end of our 1-on-1.
You just can't keep this man down!