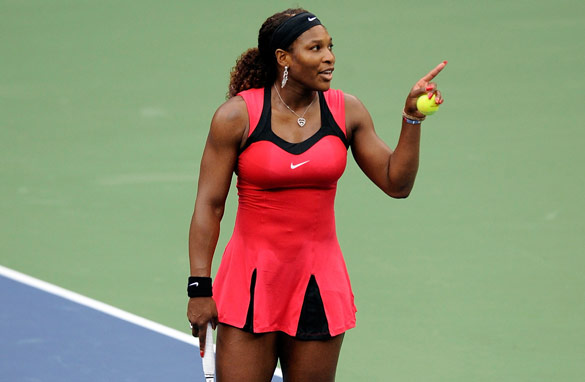 Serena Williams was furious after being penalized during the U.S. Open women's final on Sunday. (Getty Images)
Only hardened Australian tennis fans gave Samantha Stosur a chance of beating Serena Williams in the final of the U.S. Open.
It seemed the rest of the world felt sure that the American, a 13-time major champion, would romp home just as she had done through six rounds at Flushing Meadows and two hard-court tournaments before that, but the 27-year old Aussie clearly hadn't read the script.
This was supposed to be the fairytale ending of the 10th anniversary of the September 11 terror attacks, and the clear favorite seemed destined to win, just like her sister Venus had in New York in 2001. But, perhaps for the first time in her professional career, she was overpowered.
Stosur has arm muscles that a dedicated bodybuilder would be proud of, and told me after Sunday's final that they are the combination of good genes and a lot of hard work in the gym.
But this impressive victory wasn't only about physical strength - it was mental too. Stosur passed the test with flying colors, something she's not been able to do in the past.
This was a new Sam, not the one who lost in the 2010 French Open final when expected to win her first major - or crashed out in the first round at Wimbledon this year. This was one who truly believed she could beat the overwhelming favorite, and subsequently put in one of the best individual performances I have ever seen.
The women's tour needs a dominant number one, at least for a little bit, and perhaps the affable Aussie is the one they've been waiting for. If she can remain at that level, multiple majors beckon - even with Serena back in the fold!
Some of Sam's remarkable achievement was overshadowed by Williams' outburst at the start of the second set, which clearly wouldn't have been such a big deal if not for what happened two years ago at the same tournament.
In 2009 Williams was fined heavily and given a suspended sentence for threatening a line judge in her semifinal defeat by Kim Clijsters - a probation which lasted through this year's final major.
This time, Serena was given a code violation for arguing with the umpire after being given a point penalty for "intentional hindrance." She called out after hitting what seemed to be a certain winner to save a break point against her serve, but her cry of "Come on" came before the point had ended. Was it intentional? Probably not.
At first it seemed as though umpire Eva Asderaki agreed and would ask them to replay the point, but she then decided it had been intentional after all and gave the point to Sam, as per the rules.
Serena argued and was given a code violation. Later, at a change of ends she called the Greek official a "hater" and "unattractive inside."
The crowd at Arthur Ashe Stadium were clearly unhappy with the initial decision, letting their feelings known with loud jeers and whistles, and though this helped Serena and hindered Sam at first, normal service was soon resumed - another impressive example of the Australian's strong mental strength.
After the match, Serena did not shake the umpire's hand but did go over to the champion to offer extra congratulations.
Neither player wanted to dwell on the earlier incident in their post-match press conferences; my colleagues in the media will, until Serena offers something of an apology.
It was a shame this will be remembered rather than her terrific run to the final, which not even she expected after being close to death's door earlier this year after blood clots formed in her lungs.
So now the debate rages - was Serena within her rights to say what she did? Or has she not learned from her mistakes of the past?
But I think a more intriguing question is, would this even be an issue if Serena was male? Tennis players are usually fairly cool and collected, but it's not that unusual for them to say unpleasant things to match officials.
Andy Roddick is one who delivers tongue lashings from time to time, but we don't often focus on what he said or how he said it. He's never been put on probation and probably never will be.
So, has Serena been judged too harshly?