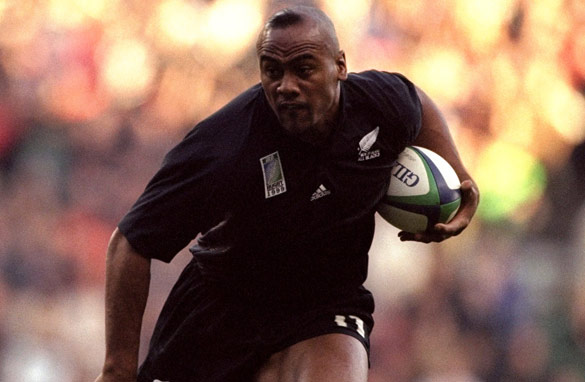 Jonah Lomu's 15 World Cup tries have secured his place in our World Cup XV, but who else has made the cut?
It's a thankless task tackling the sports fans' most-heated debate –- picking a greatest ever team. There is never a correct answer; facts are ignored, personal favorites picked and style preferred to substance. It's always subjective.
So, I preface my selection of the best rugby World Cup XV of all time by saying that this is very much a side that I would want to watch. As a journalist, you need to think about balance and neutrality, but I've indulged myself here.
For me, sport at its most uplifting is about grace and poise, the balletic as well as the brawn; I like to see athletes make the mastery of their game look easy, as if they were born to do it. My ultimate World Cup XV has plenty of grit but, above all else, these players would be entertaining to watch - simple as that.
1. Loose Head prop – OS DU RANDT
Huge for a front rower. Tall and powerful, and a double World Cup winner. Hard to argue with that.
2. Hooker – SEAN FITZPATRICK
A leader on the field and part of New Zealand's only World Cup winning team. Fitzpatrick was a great reader of the game and has proved that as a pundit since retiring.
3. Tight Head prop – PHIL VICKERY
Embraced the sport's race towards the notion of total rugby. In England's 2003 World Cup triumph, Vickery showed that props could play with the ball in hand too.
4. Lock – VICTOR MATFIELD
Hard to overlook John Eales but Matfield's athleticism –- especially in the lineout –- just edges it. Key part of South Africa's 2007 triumph.
5. Lock – MARTIN JOHNSON
The heart and soul of England's 2003 World Cup victory –- although he'd never agree. Led by example and intimidated opponents with his sheer presence. Still does.
6. Blindside Flanker – FRANCOIS PIENAAR
Maybe not the most inventive or skilful openside ever but this is a sentimental choice. Like Johnson, an inspirational captain and him receiving the 1995 trophy from Nelson Mandela is the most iconic image in World Cup history.
7. Openside Flanker – MICHAEL JONES
Although he played at six in his prime, I wanted to make room for Pienaar and still include Jones. Adored in New Zealand, despite an injury-plagued career, he set the mould for the modern, rampaging back row forward.
8. Number eight – ZINZAN BROOKE
Like his contemporary above, Zinzan Brooke is rightly regarded as a legendary All Black. He played in three World Cups, combining fearlessness on the field with speed and sublime rugby skills.
9. Scrum-Half – GEORGE GREGAN
Tenacious and quick, Gregan has played more World Cup matches than any other Australian. Often an attacking spark in his country's victorious 1999 campaign.
10. Fly-Half – MICHAEL LYNAGH
This won't be popular with the Jonny Wilkinson fans but, Lynagh's play was easier on the eye. Just as reliable a kicker as England's 2003 talisman, Lynagh also has four World Cup tries to his name.
11. Left Wing –JONAH LOMU
Rugby's first global superstar and scorer of 15 World Cup tries, more than anyone else. At the time, his sheer size was unique for a back and only Lomu's health problems prevented him making an even bigger impact on the sport.
12. Inside Centre – TIM HORAN
Small but not for the era he played in, Horan had a recurring knack of spotting gaps in the opposing midfield and using an impressive burst of pace to exploit them.
13. Outside Centre – JEREMY GUSCOTT
Guscott never ran across the pitch, he glided. A joy to watch, which is why he gets the nod ahead of fellow Englishman, 2003 World Cup winner and scorer of seven World Cup tries to Guscott's four, Will Greenwood.
14. Right Wing – DAVID CAMPESE
Strictly, a right winger but Campo could almost go anywhere. The ultimate love him or loathe him player. Attempted things on a rugby field that no-one else would, and not always successfully. Bagged 10 World Cup tries in total.
15. Full-Back – SERGE BLANCO
Sheer, gallic class. Like Campese, a rugby maverick. Blanco smoked like a chimney, and could fuddle the opposition with a silken touch, pace and vision. Crucial in France's path to the 1987 final.