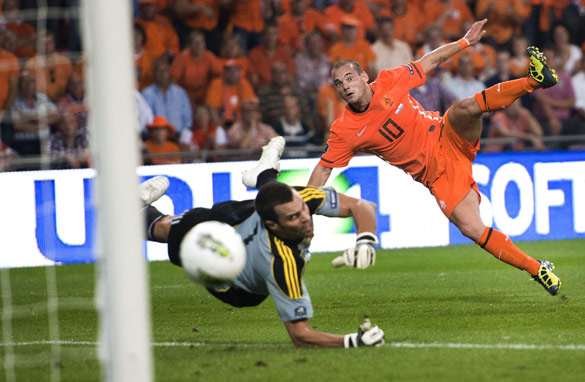 Wesley Sneijder found the net twice as Netherlands romped to an 11-0 triumph over San Marino.
As I watched San Marino get demolished by the Netherlands in a Euro 2012 qualifier on Friday, I thought that it's time for UEFA to restructure the qualifying format for European Championships and World Cups.
11-0. That was the score in Eindhoven between the top and the bottom ranked teams on the FIFA standings. The question has to be asked, why did they have to play each other in the first place?
Did you know that the eight lowest ranked teams in the UEFA region have combined for a grand total of two wins in 49 Euro2012 qualifying matches?
Together they have combined for a goal difference of minus 114. Again, what's the point?
I know what UEFA's stance is and I know what a lot of you are thinking - the only way to develop football in these small nations is to give their teams a chance of competing with the best sides on the continent.
I honestly don't agree. What is the point for the likes of San Marino, Andorra, Malta, Luxembourg and others constantly losing by seven, five, three or even one goal?
Wouldn't it be more productive if they actually had some games that mattered? Some games that they could win?
What I would suggest is for UEFA to set up a pre-qualifying phase for the lowest ranked teams on the continent.
For argument's sake, let's say that the bottom 16 would participate in eight play-off legs.
The winners would move into the main qualifying draw, the losers would have to play each other in matches that would count for ranking points or schedule friendly games in order to improve.
My opinion is that by eliminating the weakest teams, UEFA would improve the overall standard of games in qualifying.
Furthermore, they would also cut down on the amount of matches the top teams and players have to endure. Fair? I think so.
Of course UEFA don't have to think outside the box to make this happen.
European football's governing body could just follow the example of other confederations.
Asia, Africa, Oceania and CONCACAF all have a pre-qualifying phase for the weaker teams, which have to negotiate a series of knock-out matches in order to have the privilege of facing the top sides on the continent.
So, I challenge UEFA to take a long hard look at the qualifying format for big tournaments.
I ask Michel Platini to make a decision, one which ultimately would be better for football.