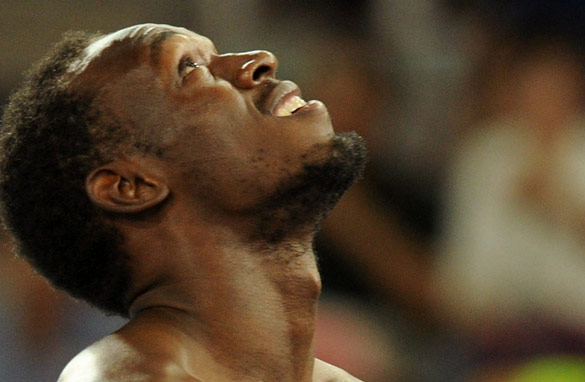 Should the rules be changed to prevent disqualifications like Usain Bolt's on Sunday?
Take a trip with me in my imaginary time machine, back to an era of circus entertainment. Listen to the moustachioed ring master bellow, "Roll Up, roll up. Come and see the fastest man on earth. So quick, he's known as the 'Lightning Bolt' - speedier than anyone in history. Roll up, roll up."
The crowds swarm to see the star attraction, abuzz with excitement. What will this freak of human sprinting do? How fast can the Lightning Bolt strike this time, they wonder.
The ring master cracks his whip; our hero sets off, then, oh dear: "Sorry folks, our star attraction started a fraction of one second too early. The race is off."
And in response to the groan of disappointment from the expectant audience? "Rules are rules."
In our make-believe, bygone age the ring master would have been hauled away, put in the stocks and had rotten tomatoes thrown at him.
The IAAF, athletics' governing body, and the equivalent of the ring master for the World Athletics Championships, can count themselves lucky that we live in more enlightened times.
However, there will be plenty of Usain Bolt fans wishing they could haul track and field bosses away following the superstar Jamaican sprinter's false start in the 100 metres final.
Due to a rule change last year, there was no second chance for Bolt - and the man everyone had come to see was forced to sit out the Championships' blue riband event.
It's often said that no single athlete is bigger than his or her sport, but Bolt's astonishing error is the exception that proves the rule. And, in this case, the false start rule - one strike and you're out - needs changing.
Ironically, Bolt supported the rule when it was introduced in 2010. And in a statement after the race - released through the IAAF - he refused to criticize it.
However, even if the 100 and 200 meters world record holder can take such misfortune so well, his fans aren't so magnanimous.
Just a glance at social-networking sites shows the global disappointment from people denied the chance to see the fastest man on the planet doing what he does best.
The rule was changed, in part, to suit sponsors and television executives who were frustrated at the delays caused by multiple false starts. Those same "suits" will be even more annoyed if their star attraction is disqualified again at next year's Olympic Games.
Yes, everyone knows the rules but it doesn't make it any easier for an athlete to stick to them in the pressure-cooker atmosphere of a major final.
Human beings make mistakes, and Usain Bolt is such a top draw the regulations should be changed to stop what happened to him from happening again.