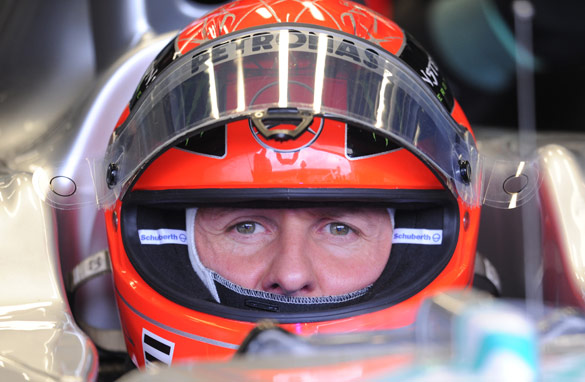 Michael Schmuacher has won a record seven world championships, but his popularity is still questionable.
It's a little-known fact that Michael Schumacher got his big break in Formula One because another driver had been jailed for 2 months.
In 1991, Jordan driver Bertrand Gachot was locked up for assaulting a London taxi-driver, forcing him to miss four races including his home one at Spa. Schumie stepped in to the cock-pit and the rest, as they say, is history.
With the sponsor 7-Up displayed prominently and prophetically on his nose-cone, Schumacher qualified for his first F1 race in 7th position. Clutch problems meant he retired on his first lap, but he impressed so much that he was immediately snapped up by Flavio Briatore and the Benetton Ford team, who coincidentally were sponsored by Mild Seven, where he won the first of his record seven drivers' championships.
Perhaps the sport's most successful driver was destined to be so, but his legacy isn't so clear.
20 years after it all began, Schumacher will no doubt be reflecting on his career when he returns to Spa this weekend. While no-one can doubt his unparalleled success and his numerous record-breaking feats, it is by no means clear that he is the sport's best-ever driver.
Motor-racing is as much about the machine as the man and Juan Manuel Fangio, who won five titles, is viewed by many as a better pilot. Ask many of today's drivers who they regard as the best and they'll tell you it was the late Ayrton Senna.
Complicating Schumacher's legacy is the fact that there are several question marks against his achievements. His first two titles were controversial, he was disqualified from a whole championship in 1997 for cheating and he bent the rules on numerous occasions to ensure that he got the result he wanted.
And then there's his much-vaunted comeback; returning to a fanfare with Mercedes, two years after his retirement. So far he's done nothing to enhance his reputation and is frequently out-performed by his teammate Nico Rosberg.
F1 fans are passionate about their sport and their favourite drivers aren't just the ones with the biggest numbers after their name.
While Ferrari followers globally rejoiced in the era of dominance that Schumacher delivered in the first half of the last decade, Niki Lauda, Gilles Villeneuve or Fernando Alonso might even be more popular.
Would it be fair to say that Schumacher won everything bar the hearts of the legion of F1 fans around the world?
It would be a tidy book-end to Schumacher's career if he was able to win another world championship, but
that seems very unlikely. Given the way his comeback has gone, he'd surely be delighted with a 92nd race win. And to do that for a seventh time around the classic twists and turns of Spa-Francorchamps would warm the hearts of F1 romantics everywhere.
At 42 years of age, Michael Schumacher remains one of his sport's most intriguing characters, but perhaps his biggest victory will come on the day when he wins over his critics.