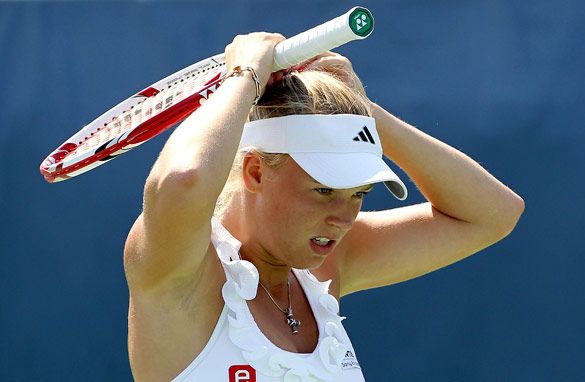 Caroline Wozniacki has reached the top of tennis' world rankings despite not winning a grand slam title.
A number one ranking can be a blessing and a curse, just ask Caroline Wozniacki, Jelena Jankovic and Dinara Safina.
It is right that praise follows an athlete who has reached the summit of their sport, but it can become a burden if this feat has been acheived without claiming a grand slam.
To the layman it makes no sense. To the critic it undermines the credibility of the rank. Since Wozniacki of Denmark became the WTA Tour's top-ranked player, it is a question mark that has hung over her career.
In each press conference, the question is asked multiple times and in slightly different ways. It must grate on her that she is unable to silence such dissent with a major trophy.
Being the fun-loving girl she is, she's tried to play it off, to say she's not worried, and that she's young so there's still time. But the questions are corrosive and increasing the pressure at every slam event.
Having ended her full-time coaching relationship with her father, Wozniacki has employed a new unknown coach to guide her through the rough time she's having at the moment.
She's simply had a terrible few months of form and is clearly struggling with her confidence, which every athlete knows is incredibly hard to build back up. Tennis is all about key points and when you don't feel confident, things can go awry at the worst moments.
Everybody knows the 21-year-old is a great defensive player, but has so far lacked the weapons to beat tennis' top stars.
Right now she's having problems with the mid-ranked players too. So maybe a fall in the rankings could benefit her game?
That way, she will no longer have to answer "the" question that applies the pressure. The reality is that she is young and does have time, plenty of it, to win at least one major title.
From what I know of her, she loves being on the Tour and is very sociable with other players which isn't too common amongst the very best in the women's game.
It's pretty much accepted that the top 10 or so, generally keep themselves to themselves, in order to have an edge over the others.
But Caroline has shown that you can be friendly with others off the court, and be competitive on it. She's a real personality and an asset to the Tour, so I hope her recent run of bad luck and poor form hasn't soured her career irreversibly.
She does need to build up her game and be more aggressive on the big points, but that won't happen overnight. She needs time and patience. By dropping to world number two, she will gain more of both.