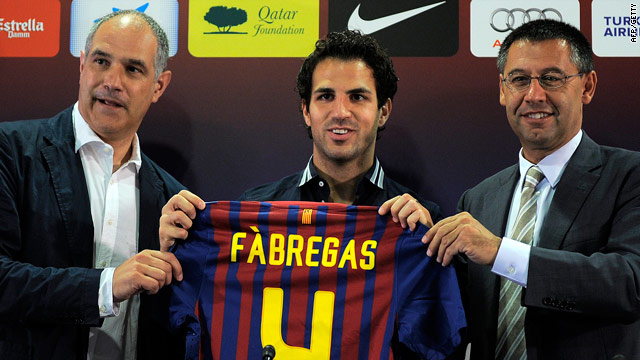 Cesc Fabregas will be hoping for success wearing the No.4 shirt at the Camp Nou.
As Cesc Fabregas was unveiled at the Camp Nou on Monday, ending one of the longest-running transfer sagas in recent memory, two new stories were born and neither currently has an obvious ending.
First, the tale of "Fabregas: The Barcelona Star?" and second the epic legend of "Arsene Wenger's quest for Glory."
Let's start with Wenger. If you read my blogs regularly, then you know I think the French manager has lost the plot at The Emirates. For too long he has failed to see that the team desperately needs veteran players who are proven winners and who can add character to a side which has been too soft too many times.
In this preseason, he has once again insisted in spending a lot of money ($43 million) on a group of youngsters instead of investing in experience.
Wenger's persistence in following a model based on youth has alienated some of the senior players in his squad and in my mind that is one of the reasons why Cesc decided to go.
Of course the midfielder wanted to go back to Barcelona where he started his footballing career and where he has his oldest friends and family. However, I can guarantee that if Arsenal were winning trophies, and if he believed in Wenger's master plan, he would not be jumping ship.
I honestly think he got tired of seeing the team fall short of expectations and of shouldering too much of the blame. He became captain at the tender age of 21 and in my view had to deal with too much pressure, too soon.
So, what is the next chapter for Arsenal? Well, I am pretty sure Samir Nasri is going to leave as well, so Wenger has to find a way of replacing two superstar players in a couple of weeks. Not an enviable task and the French coach has to realize it is now or never. He has to spend big money on big players who know how to win and know how to win right now, or I fear an unhappy ending.
As far as Cesc is concerned, it will be fascinating to see whether he can adapt to a new role at Barcelona. At the Camp Nou, he will be merely a squad player. Fabregas normally has played second fiddle to the likes of Xavi, Andres Iniesta and Sergio Busquets with the Spanish national team, and that is probably going to happen at Barca as well.
He has been bought to add depth to midfield and to allow Pep Guardiola to give his maestros some rest. Whether he plays week in and week out, I think that is very doubtful right now. He may get more first team action if Pep decides to move Iniesta out towards the wing opening up a slot for Cesc to play alongside Xavi in the middle of the park. Ultimately though, he is the future and his stellar story is set to only get better in the coming years.
I am genuinely interested in what will happen at Arsenal and Barcelona over the next couple of weeks. How will the Gunners rebuild, and how will Barca cope with their embarrassment of riches keeping everyone satisfied? Watch this space, because when all is said and done both Wenger and Fabregas are the sole authors of their respective fates.