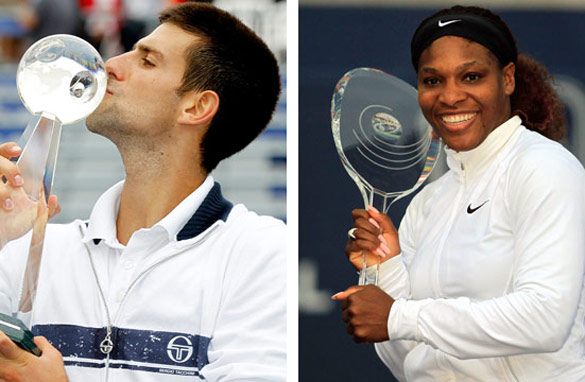 Novak Djokovic and Serena Williams pose with their Rogers Cup trophies.
There are two weeks to go until the final major of the year begins and already we have two huge favorites. You simply cannot look past Novak Djokovic on the men's side and Serena Williams on the women's.
The Serb's run this year been absolutely astonishing. Victory at the Rogers Cup in Montreal was his ninth title of 2011 and his fifth at an ATP Tour Masters 1000 - a record - which means he has now won 53 out of his 54 matches - with that lone loss coming to 16-time grand slam winner Roger Federer in the semifinal of the French Open.
Not too long ago it was Rafa Nadal and Swiss Federer who dominated men's tennis and Novak was a bit of an afterthought, but how things have changed.
While Djokovic cruised unchallenged to the final in Montreal in his first tournament as world number one, Rafa lost his first match and Roger his second.
Novak has clearly separated himself from the crowd, while the other two, especially Federer, appear to have been reigned in by the field.
If this was the Tour de France, Djokovic would be pedaling clear of the breakaway while the peloton would be slowly sucking Rafa and Roger in.
As for Serena, well what can you say? She was the crash victim and struggling at the back of the pack after 11 months out, but is now flying towards the front at a rate of knots.
According to Serena herself, she was on deaths door earlier this year and, rumor had it, her career was close to being over.
But we have learnt over the years never to rule the younger Williams out. As she told me herself at the women's Rogers Cup in Toronto, she never thinks she will lose in a match, no matter how far she is down. Lots of players say that, when she does, it's true.
She has now won two of her four tournaments since returning to the WTA Tour and is thriving on the North American hard courts, which bodes rather well for her chances at Flushing Meadows - where she has won multiple times before.
From being ranked in the 80's, Serena is now up to 31 in the world and it won't be long before she is into the top five where she belongs.
The big names will hope she is given a top seeding in New York, because the truth is no-one wants to face a fit Serena.