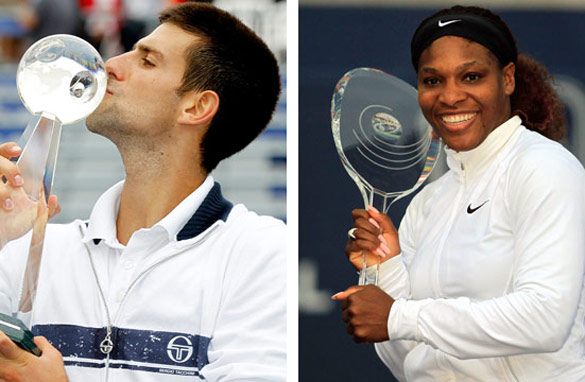 Novak Djokovic and Serena Williams pose with their Rogers Cup trophies.
There are two weeks to go until the final major of the year begins and already we have two huge favorites. You simply cannot look past Novak Djokovic on the men's side and Serena Williams on the women's.
The Serb's run this year been absolutely astonishing. Victory at the Rogers Cup in Montreal was his ninth title of 2011 and his fifth at an ATP Tour Masters 1000 - a record - which means he has now won 53 out of his 54 matches - with that lone loss coming to 16-time grand slam winner Roger Federer in the semifinal of the French Open.
Not too long ago it was Rafa Nadal and Swiss Federer who dominated men's tennis and Novak was a bit of an afterthought, but how things have changed. FULL POST